December 06, 2013
Osborne targets high street in Autumn Statement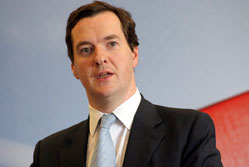 Against the backdrop of a recovering economy, George Osborne (pictured) focused attention on "our local retailers – the shops, the pubs and the cafes that make up our high streets across Britain" in his Autumn Statement, as he unveiled new plans to support UK small businesses.
After considerable lobbying from small business groups, Osborne introduced a raft of measures to tackle the burden of business rates. His headline announcement was a pledge to give small shopkeepers (with premises with a rateable value of up to £50,000) a £1,000 discount on their business rates.
In order to tackle the blight of empty premises on UK high streets, Osborne also announced that businesses moving into vacant properties will have their rates cut by 50%. In addition, rises in business rates are to be limited to 2% and the small business rate relief scheme has been extended to April 2015. Rates were due to go up in line with September's retail price index of 3.2%.
Perhaps the biggest surprise of the day was the announcement that employers will get a break from National Insurance contributions when employing workers under the age of 21 from April 2015 – potentially affecting some 1.5 million jobs for young people and tackling youth unemployment head on.
Osborne also announced more funding for business support schemes, including news that an extra 20,000 apprenticeships are to be funded over the next two years. In addition, export finance capacity to support British businesses will be doubled to £50bn. And the New Enterprise Allowance scheme will be extended, helping 50,000 more people to start their own businesses.
Osborne was able to present better-than-expected economic forecasts in his statement. Public debt this year is £18bn lower than forecast in March and borrowing is expected to fall – from a lower-than-expected £11bn for this year down to £96bn in 2014-15 and £79bn in 2015-16. The growth forecast for this year increased from 0.6% to 1.4%, and for next year it was revised up from 1.8% to 2.4%.
Other measures announced in the Autumn Statement included:
the state pension age is to increase to 68 in the mid-2030s and to 69 in the late 2040s;
the personal income tax allowance is to rise to £10,000 from April 2014, and from 2015-16 to increase in line with the Consumer Prices Index (CPI) measure of inflation;
the planned petrol tax increase of 2p per litre for next year has been scrapped;
tax relief for those investing in social enterprises and new social impact bonds will be available from April 2014;
Funding for Lending is now to be purely focused on business.
>> Read our comprehensive round-up of the main announcements in the 2013 Autumn Statement on Start Up Donut.
Image: Altogetherfool on Flickr
Related resources: