January 24, 2014
Mid-sized firms to get tailor-made trade advice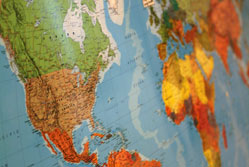 Every mid-sized business in the UK will be offered an intensive programme of support to help them start exporting or break into new markets, trade minister Lord Livingston has announced this week.
Lord Livingston will write to all the UK's 8,900 mid-sized businesses by this summer to ask them if they would like trade support from UK Trade and Investment (UKTI).
Evidence shows that, by trading overseas, mid-sized businesses can increase their sales by an average of £1.8m. The CBI estimates that, if exporting firms reach their full potential, this would be worth £20bn to £50bn to the UK economy.
Currently, mid-sized businesses make up 0.5% of all businesses but contribute around a fifth of employment and turnover in the UK. However, only 17% of UK mid-sized businesses generate revenues outside of the EU compared to 25% in Germany and 30% in Italy.
Lord Livingston said: "Mid-sized businesses have the potential to be economic powerhouses for the UK economy.
Their success is dependent on expanding beyond domestic markets so we will be making personal contact with all mid-sized businesses to find out what we can do to help them go up a gear and compete with the best the rest of the world has to offer."
UKTI market and sector experts are based both in the UK and overseas – across 160 locations in 111 countries. A pilot study will be conducted in Yorkshire and the South East followed by a full national roll out.
Alexander Ehmann, deputy director of policy at the Institute of Directors (IoD), said: "Building a sustainable recovery means improving the UK's export performance. Doing business abroad will always involve risk, particularly in developing markets, so companies want to have as much information as possible before diving in."
UKTI is also raising awareness of its services with smaller companies through a new national marketing campaign, Exporting is GREAT, which aims to generate 3,000 appointments for small firms with UKTI advisers by April 2014 and drive £1.2 billion in export revenue from the leads it generates.
Companies interested in learning more about exporting opportunities should contact UKTI.
Related resources: