January 17, 2014
Lending terms worsen for many small firms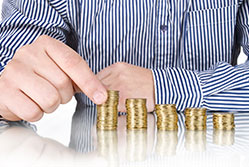 One in five small businesses in the UK has experienced worse lending terms from their bank in the past five years, including increased interest rates on overdrafts and lending facilities being cut.
According to research by peer-to-peer lender, Rebuildingsociety.com, 21% of SMEs have seen the lending terms from their bank worsen – affecting around one million small businesses.
Currently, UK SME overdraft use stands at £11.9 billion in Q3 2013, up from £11.2 billion in the previous quarter. Of those affected by worsening terms, 9% have had the interest rate on their overdraft facility increased, 7% have had their access to additional finance restricted and 5% have had their lending restructured.
The research also showed that 2% of SMEs have been charged as a result of early repayment on a loan.
The nationwide study found that that in the past five years, 16% of SMEs have approached their bank to arrange or increase their company's lending facilities. However, 11% didn't approach their bank at all because they did not believe they would succeed in getting a loan.
Of those SMEs that did apply for a loan, 31% were refused. The main reason for refusal was that the bank would not agree to the amount requested (21%). However, one in ten SMEs reports that they have been turned down for no reason – despite the fact that just 1% of SMEs claim to have ever defaulted on a loan. The research found that the average amount that SMEs attempted to borrow was £26,333.
Related resources: