February 07, 2014
Graduate vacancies to rise by more than 10%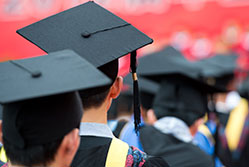 Employers are planning to increase their graduate recruitment levels this year by more than 10%, according to the latest bi-annual survey by the Association of Graduate Recruiters (AGR).
The AGR survey predicts a rise of 10.2% in vacancies for the coming recruitment round, following an increase of 4.3% in 2013. And that means that small firms are likely to face more competition as they seek to recruit skilled candidates.
Stephen Isherwood, AGR chief executive, said: "An expected rise of over 10% is welcome news." And, he said, there are some sectors – including IT and telecoms, energy, banking and financial services – that could be seeing even greater growth in 2014.
He added: "What this doesn't mean, however, is that graduates should be any less focused on their career search. We know that, even through the darkest days of the recession, our members reported unfilled vacancies because they couldn't find graduates with the right mix of skills and attributes."
In terms of the actual number of vacancies in the market, the largest graduate recruiting sectors are accountancy and professional services, the public sector, retail and investment banking.
Meanwhile, new data from recruitment specialist Venn Group finds that year-on-year vacancies of all kinds are up across the country. And despite reports that London is leading the way in creating new jobs, Venn's new figures suggest that while job opportunities in London are up 5% year-on-year, it is the regions that are racing ahead.
It has found vacancies rising by 31% in the Thames Valley, 25% in the Midlands, 24% in the North East, 20% in the South West and 8% in the Central and East region year-on-year. And, it said, private sector roles are fuelling jobs growth, with vacancies up 26% year-on-year, compared with just 4% within the public sector.
Jodie Finn, Venn Group's national accounts manager, said, "Our data certainly casts an element of doubt over the recent doom and gloom stories of an increasing chasm between London and the regions, and the accusation that cities such as Sheffield and Manchester are punching below their economic weight. We certainly shouldn't underestimate the positive impact the regions are having on the nation's economic recovery as a whole."
Related resources: