January 03, 2014
2014 – the year of the small business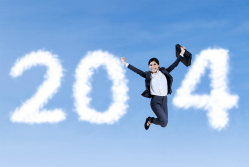 2014 will be "a vital year for our economy" and small firms will be at the heart of the UK's recovery, David Cameron has said in his New Year's address.
The prime minister said: "Those who run our small businesses are heroes and heroines. They are the backbone of our economy and we're supporting them every step of the way."
The heads of business groups, including the Federation of Small Businesses (FSB) and the British Chambers of Commerce (BCC), have also presented their messages for 2014.
John Longworth, BCC director general, said: "We have many reasons to be optimistic as we enter 2014. But the question is, how do we turn the good growth we have seen over recent months into really great, sustainable growth?"
Longworth warned that: "There is a long-term, structural failure in business finance in the UK, made worse by the banking crisis, and this hampers our ability to nurture a British Samsung or Google."
He continued: "Too often, UK businesses on this journey are 'hoovered up' by private equity, corporates and international competitors, which can reduce their wealth creation potential and concentrate decision-making outside the UK. We must find ways to become a national incubator for those who want to be medium-sized enterprises, so that when they reach this stage in their growth cycle they have the opportunity to become the UK's wealth creators of tomorrow."
Longworth also called on the government to invest more in infrastructure and skills and to tackle what he called the "cost of doing business crisis".
John Allan, national chairman of the FSB said: "I feel 2014 is going to be the year of small business. We've already seen the main political parties begin to set out their priorities for the coming years as we approach the 2015 General Election. With almost all of the UK's 4.9 million businesses being small, their votes will count dearly and each party will contend for their attention."
Allan also called for a reform of the energy sector. He said: "FSB research shows utilities costs are the biggest barrier to growth for around a fifth of small businesses. It isn't right that most micro businesses consume the same amount of energy as an average household yet are treated differently."
The FSB and British Chambers of Commerce will be working together in 2014, leading an independent survey of small business banking services.
Related resources: