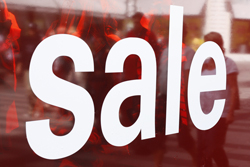 What do you do when your rivals are dropping their prices? Kate Horstead finds out when to use price cuts and how to manage them
Just because your competitors have reduced their prices doesn't mean it's the right decision for your firm. You need to be confident that discounting your goods and services will at least protect your profit - if not increase it - and that you are not just giving your margin away in price cuts.
In some cases, it might even be more profitable to sell fewer products at a higher, sustained price than to sell more at lower prices.
"Reducing your prices can do more harm than good," says Mark Stuart, head of research at the Chartered Institute of Marketing. "If you reduce prices too much, you will create the impression that your product is cheaply made as well as cheaply priced.
"The focus should be on finding out how you can ensure customers buy from you, instead of someone else, rather than just concentrating on price," he adds.
Competitive pricing
While it is important to tune in to what your competitors are doing, you shouldn't feel pressured to do the same as them. "Don't let the knowledge of why your competitors are cutting prices steer you in that direction if you don't feel it's the best decision for your business," warns Stuart.
"However, if you are in a particularly price-sensitive industry - perhaps selling commodity products - matching your competitors' prices can be advisable," he adds.
"See how much of a hit on price you could afford to take without putting your long-term growth into jeopardy," he advises. "Start with minor cuts, and see if that makes a significant difference to sales."
Lowering your prices should be seen as a short-term tactic to boost cash flow, not a long-term strategic move.
"If you must discount, make sure the cuts are communicated as special offers, or one-offs to help loyal customers through difficult times," stresses Stuart. "One day you'll need to increase prices again, which could be more damaging to your long-term survival than avoiding price cuts now."
Alternatives to price cuts
Instead of just focusing on your competitors' prices, assess what else they are doing as a business and see if you can offer something better. Get to know your customers and find out what is important to them besides price.
For example, you could offer customers a free warranty or after-care service to make your product stand out. "You need to ensure you have a unique selling proposition (USP) and focus on communicating that to your customers," says Stuart.
"The trick for your own growth is to find ways of making the product or service you're selling less price sensitive," he adds. "Reducing price sensitivity - or avoiding it altogether, as the really successful brands like Apple are able to do - is a key way of focusing on value instead of volume."