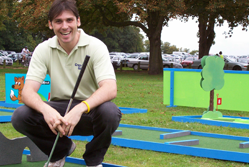 Iain Fox got the idea for his business — portable crazy golf courses for events — while he was on holiday. Five years on and his simple business concept has developed into a growing enterprise, as he tells Rachel Miller
Many businesses ideas are formed when people get off the treadmill and take stock of their lives. Iain Fox was on holiday with his wife when he got the inspiration that led to the formation of Crazy Fox Golf.
"I had been working in sales," explains Iain. "There were a lot of redundancies at the time and I felt very unstable in my job and wasn't enjoying it." On holiday in the summer of 2006, he and his wife took to playing crazy golf on a course next to their hotel. "I said, 'Can you imagine doing this for a living?'", Iain recalls.
Once they got home, Iain developed the idea and came up with the concept of a portable course that could be used at parties and events. Leaving his sales career behind, he set about building the course, buying a van, developing a website and designing a logo. "Crazy Fox Golf got off the ground in March 2007," he says. "I've always been an ideas person and I was trained in design, but I had never seen a business plan before."
Mixed reactions
Iain's original plan was to do local events such as fetes and garden parties, as well as birthday parties in his local area of Derbyshire and Nottinghamshire. With that in mind, he contacted venues such as pubs, leisure centres and function rooms, but to begin with he got mixed reactions.
However, his persistence paid off and he gradually started to get bookings. "I started doing a regular bi-weekly event in a local leisure centre. Then other people got wind of it and word of mouth brought in more business." Crazy Fox Golf also got some good editorial coverage in local papers as well as in the Daily Telegraph.
This publicity brought enquiries from a new source — corporate events. "I thought it would be more of a kids things but I was getting enquiries from companies," says Iain. "There was more and more interest from the corporate side. I was building up a bit of brand awareness. Then we realised with corporate events that instead of us coming and charging each person to play we could rent out the course for a day rate."
Another important marketing method has been Google AdWords. "We started advertising in phone directories but that didn't work," says Iain. "So we set up a Google AdWords account and that has been a big factor in the growth of our company."
Expansion plans
Despite some tough years, Crazy Fox Golf has continued to grow and has provided entertainment at many corporate events, including days for L'Oreal, British Gas and Slimming World. With that growth has come new golf courses. "I built a second course to meet the corporate demand and I've also built a special course for schools based on a healthy living concept," reveals Iain.
Iain is building on this success with two new strategies. Firstly, he's moving into sales. "We're getting enquiries from venues such as golf courses that want to install a permanent crazy golf course to help cater for functions such as weddings," he says.
Secondly, he's started to approach potential entrepreneurs that might want to license his concept in their own area.
The past few years have been a steep learning curve for Iain but his persistence has paid off. "It's easy to start out thinking you are going to get rich quick. But it's hard work and you have to stick with it. We've grown at an organic rate. I have learned a lot over the past few years. It has taken a lot of trial and error."
At the same time, Iain has managed to create a growing business. "I wanted to grow but I also wanted to keep control of the business. I was offered investment from a business angel at one point but the timing wasn't right and now I think I have a good business model."