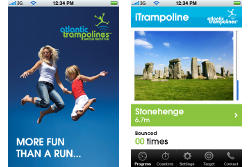 Do you dream of having your own app to promote your business? Andrew Jardine tells Rachel Miller how he built an app for his trampoline sales business — and it didn't cost the earth
Have you ever thought about developing an app for your business? Coming up with an idea is the trickiest part - and even when you have one, turning it into reality can be daunting.
That was the challenge facing Andrew Jardine, founder of Atlantic Trampolines. Andrew's company sells trampolines and accessories via a hard-working website that uses pay-per-click advertising and SEO to keep it in the top of the search rankings.
"I had been looking at apps for a while," he says. "I had discovered that the iPhone has an in-built accelerometer that can measure velocity. I realised that we could get the iPhone to measure the number of bounces someone made on a trampoline. And I thought that we could develop it into an app."
After further investigation, Andrew found that there was only one app out there that came close to this concept and it simply plotted the height of trampoline bounces on a graph. But Andrew was planning a more sophisticated app.
"We wanted to measure height, count bounces and then link that to calories lost," he says.
Finding an app developer
The next step was to find a developer that could build the app. "I spoke to a number of app developers but the cost was too high," says Andrew. It looked like the project had stalled until a friend introduced Andrew to his son — Michael Terry.
"Michael was doing his A-levels, including computer science," says Andrew. "He needed to do a project as part of his coursework and he was confident he could build an app for us."
By then the concept for the app had been fine-tuned. It would count bounces and also measure height by plotting bounces against images of tall structures including the Statue of Liberty, the Eiffel Tower, a London bus and Mount Everest. And, by inputting your weight, you could find out how many calories you had burned while bouncing and this is turn would be compared to the calorific values of certain foods – such as pizza or ice cream.
The iTrampoline app was born. "As an app it's really good, especially for children," says Andrew. "It also works as an incentive to exercise and it's more exciting then just counting the number of times you bounce.
"We were so fortunate that Michael could do it," continues Andrew. "He's very intelligent and, as well as computer science, he's also studying maths and physics so he had all the skills."
The only area where Andrew had to bring in outside expertise was the look of the app. "We had to employ a graphic design agency to make sure the branding was consistent with our own branding. That cost a few hundred pounds."
Registering the app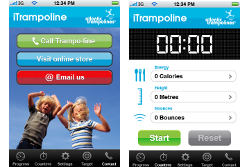 The final hurdle was registering the app to get it on the iTunes app store. This process was more complicated and long-winded than Andrew had anticipated but it is crucial to its success. "Watching The Apprentice, I did learn about the importance of having a good description for your app on the App Store," says Andrew.
So what is Andrew hoping this free app will do for his business?
"This app is useful whether you have got one of our trampolines or not and it should bring more traffic to our website and hopefully boost sales," says Andrew. The app has three ways for users to link to Atlantic Trampolines — via a web link, an email address and a freephone number.
"It's about making our company stand out," Andrew says. "I am always looking for ways to differentiate ourselves from our competitors."