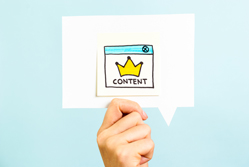 If you want to get serious about content marketing for brand awareness, it's time to take off your sales hat. Unlike traditional, revenue-driven advertising, content marketing focuses on creating value-added material; the goal is to establish a voice of authority in the industry, to increase brand awareness, and, eventually, build your customer base.
In short, when you're thinking about content marketing for brand awareness, make sure you're focusing on what matters: adding value, not selling your stuff.
Content marketing shouldn't wax lyrical about a new feature or must-have purchase. It must celebrate the individuality of your company and engage consumers by revealing your personality.
Here are some of the most effective ways to get your branded content marketing off the ground:
1. Create a content strategy

The ultimate goal of branded content marketing is to help you attract your target audience and build a brand by clarifying what's special about your business. For this reason, it's important to have a clearly articulated content strategy, which tells the cohesive story of your brand.
Before embarking on a campaign, take the time to consider what story you want to tell, and make sure that all your content has a clear focus, in line with your business objectives.
2. Send newsletters
Regular email newsletters remain one of the most important ways to keep your customers updated and engaged. Again, focus on the content aspect of your newsletter. It should not just be a place to tout your latest product or promote a discount. Carefully-curated content, with little or no mention of the brand, re-affirms the perception of your brand as a credible voice of authority.
3. Build a branded blog
Research shows that 79% of marketers who blog reported a positive return on their investment. Content-driven blogs are one of the best ways to establish your voice as an authority in your field, and they are a vital piece of the content marketing puzzle. They are also one of the easiest strategies to get off the ground. Ideally, your blog should be the go-to place online for your target audience to find out more about your area of expertise and to learn more about your brand.
4. Engage your professional community
It's important to remember that you are a small fish in a very, very big pond. Rather than swimming alone, think about ways to engage others in your community. Consider participating in online industry forums where you can establish yourself as a problem-solver and thought leader. Create tutorials, "how-to" articles, or Q&A whitepapers, and offer these resources for free.
5. Think viral

While it's essential to ensure the content is in keeping with your brand's message, the most frequently shared content is fun, dynamic, and playful; so even if your brand is quite serious, play with the human element and show you can have fun with your community.
Copyright © 2014 Miko Levy, VP, Customer Acquisition, Outbrain.