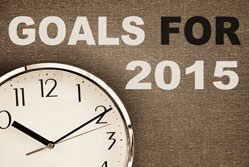 Since the New Year is all about fresh starts and resolutions, I want to focus on some social media resolutions that will help you to increase your productivity in 2015.
If you're not careful, social media can suck up a lot of time; but there are many ways to work smarter, not harder with all things social.
Here are six social media resolutions for 2015:
1. Take the hassle out of posting with automation
By using online tools you can schedule posts for the most convenient time, without having to sit at your computer and physically press the "publish" button. Not only that, social media management tools make it easy to share content in more than one place, and they're packed with analytics that can help you figure out what's working for your business.
Both Buffer and Hootsuite offer an easy way to manage your social media engagement. Buffer, for example, helps you find and schedule interesting online content; Hootsuite allows you to manage all your social media accounts in one place.
2. Make a bigger impact with Openr
Sharing is simply huge. Facebook, Twitter and LinkedIn newsfeeds are all filled with content that people and brands are constantly sharing. But no-one is sharing for the sake of it – whether you are a small business or a global brand, sharing is intended to build credibility, engage and increase an audience.
Now a new free tool called Openr can turn your sharing into a traffic-driving tool.
Before now, if you shared an interesting article from Huffington Post, for example, it wouldn't allow you to push your own message. At most, a share might increase your credibility by association but that's about it.
Now tweet about that same article using an Openr link and your followers will see the article you shared, but also your own personal message and a call-to-action driving traffic back to your website.
3. Try to beat the clock
This approach might seem a little low-tech for some people, but the reason it has been around for so long is because it works. You can experiment with different timeframes, but the favoured approach of many is called the Pomodoro Technique — named after the kitchen timer that looks like a tomato.
You can either set a timer on your phone for 25 minutes, or for those who want the "authentic" experience, go out and buy a tradition kitchen timer for your desk. The aim is to get as much done in that 25-minute period as possible, followed by a 5-minute break. You can then repeat the process, or move on to a different task – depending on how successful you were.
4. Reuse old content
You spend hours writing an article or finding interesting articles to share, then you tweet about it once. The time-value equation doesn't quite add up does it?
There is nothing wrong with sharing the same content more than once – especially on Twitter - because the feed moves on so quickly. But keep in mind that this strategy works best with "evergreen" content. This blog is an example of evergreen content because it doesn't just have a one-time use, it can be useful over and over again for anyone who finds it.
Your reused content might not be as popular the second, third, or fourth time you share it on social media, but it will still get hits. Over time these can add to a substantial amount of new leads, conversions and paying customers.
5. Share it; outsource it
Going back to my second point, sharing content from other people is a great way to help your customers and build credibility. But sitting on the internet for hours every day trying to find said content is another time sapper. Luckily you can get it done for you. Try sites like Triberr, Swayy and Scoopit as these are all great for finding relevant content fast.
When it comes to actually writing the content, it's good to weigh up the pros and cons of writing yourself versus having a trusted writer on hand to help. If it takes you a day to write an article, working with a writer who could do it in an hour could pay dividends. It could be someone on staff who can write well or a trusted freelancer who can deliver high-quality work when you need it most.
6. Get rid of dead weight
Some social media platforms just might not be right for your business; so don't be afraid to turn off a channel that isn't working for you. What works for one business might not work for yours. Ask yourself whether maintaining seven different social media accounts is the best use of your time.
There are two approaches: Go with your gut, or rely on analytics. Sometimes it's obvious that a social media account isn't working, because nobody likes it, nobody comments on your posts, and everything seems to be a one-way conversation. When things aren't as clear as that, it's time for some analytics.
So there you have it – a New Year, and a few new ways to make better use of your time when it comes to social media marketing. Of all of these, my favourite is Openr because it can save you time and increase your social media marketing ROI.
Copyright © 2015 Christina Richardson, business marketing specialist, mentor and founder of The Nurture Network. Christina is also co-founder of the Brand Gathering community, helping young businesses to grow by working together.