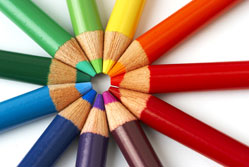 Whether you're launching a new business or rebranding your website, the chances are you'll need to make some decisions about colour at some point along the line.
And, whilst colour will make your business look more exciting, interesting and engaging, the right colours can also help you sell more products and services. Colour psychology can help you communicate consistently and coherently and compel your customers to buy.
It would be lovely if I could tell you that picking red will grab attention and that's the colour you must put on your website, but the truth is that it's a little more complicated than that.
There is no list of must-have colours for every business. Just as your business is unique, so are the colours that'll work for you. But with some thought, you can create a colour palette to help attract customers and build your brand.
Start by defining your intention. What makes your business unique, why do your customers love what you do and what impression do you want to create? Make a list of key words and pick just three that encapsulate what you're trying to do.
Now, take advantage of colour psychology — it's a great framework to create colour palettes that work. In particular, you can consider which seasonal personality best represents your business.
Spring businesses are creative, inspiring communicators who value simplicity and clarity and the spring personality is often described as spontaneous, proactive and forward-thinking. Use light, bright, clear and warm colours with a softness and delicacy about them.
Summer businesses are organised, efficient, romantic, graceful and elegant. The Summer personality is reserved, thoughtful and intuitive. It also feels a strong sense of responsibility and will never let you down. Use delicate, cool and muted shades. Flowing lines and a softness of tone is very Summer and a soft, watercolour style works well.
Autumn businesses are earthy, organic, community-minded and value-driven. Autumn brands have a strong connection to nature, a love for the past, a thirst for understanding how and why things work and they often enjoy challenging the status quo. The Autumnal personality makes a great campaigner. As you might expect, shades are warm, intense and muted.
Finally, Winter businesses are dynamic, distinctive, dramatic and luxurious. Winter is a season of extremes and the Winter personality is usually highly focused on the task in hand and excellent at both the big picture and drilling down into the detail. Pick cool, bright and intense shades — this is the only season you should use black for.
By using colours from just one season you can communicate a highly confident and powerful message.
Once you've picked your season, select colours that will support your brand messages. For example, yellow will communicate confidence, optimism, self-esteem and happiness. Red is a great colour to communicate energy, strength and vitality. Blue is good for communication, clarity, logic or efficiency. Orange is great for creativity, abundance and fun while green is restful and represents balance and harmony.
So why not take a more considered approach to colour next time you work on your brand identity? It'll make the world of difference.
Copyright © 2014 Fiona Humberstone. Fiona is an expert contributor to Marketing Donut and heads a creative and branding consultancy. She is running a colour psychology workshop in London on 30th September.