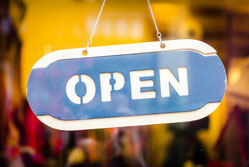 Have you been thinking about setting up a pop-up shop to expand your customer base? Pop-up shops can be flexible and cost-effective but there are some key things you need to consider to ensure you get the most out of this opportunity.
Step one: Make a plan
Like a business plan for your business, you need to identify your main objectives before you create your pop-up store. It may that you are an online retailer and, following in the footsteps of Google and other well-known online brands, you have decided you want to take your online business to the high street.
A pop-up shop is a good way to dip your toe in the water before you commit to the overheads of a permanent base. Perhaps you just want to give customers the chance to meet you and be able to see and touch your products before they buy. Or you may want to find a rich source of new customers that have yet to hear about what you do.
Let your objectives guide the concept of your store to ensure that it supports your aims and delivers results.
Step two: Identify your customer base
Still at the planning stage, you need to determine who you are aiming your pop-up shop at. Your online customer demographic may be surprisingly different to the demographic of the people you get through the physical door. This information will also have an important bearing on the location of your store.
Step three: Choose your location
Look at the demographics of the areas you are considering as a location for your pop-up store. But choosing location is just as much about budget as it is about customer demographic. Don't overstretch your finances as there is marketing expenditure that needs to be met.
Keep an open mind; a big city location is not automatically better than a rural venue for instance. Websites like Appear Here allow you to browse through hundreds of possible locations for a pop-shop around the country.
It's also worth finding out who you will be working alongside. A jewellery designer may do really well by sharing space with a more established clothing business, for instance.
Don't rush into anything. Even with a short tenancy, you may have to sign a lease and there may be terms and conditions that need ironing out. And don't forget insurance, including public liability and contents.
Step four: Create a buzz
You may have a wonderful pop-up shop in the perfect spot, but if you think this means people will automatically appear at your door and snap up your stuff, you are very much mistaken.
The key ingredient in any successful pop-up store is the buzz around it. You will need to make full use of a range of marketing activities to generate excitement and attract visitors to your store.
Offline marketing activities include everything from adverts in the local paper, to press articles, to flyers through doors and posters on bus stops. Tell people you are coming and what you have to offer. A good way to attract attention is to hold events at your shop, such as a launch party or workshops.
Important online marketing activities include social media and website promotion. Create a hashtag campaign that can be used across all your social media platforms and keep it active through the life of your pop-up store.
Some pop-up stores create separate but linked online personas so that the pop-up shop has its own path to customers.
Step 5: Review it
A pop-up store may be a short-term marketing experiment or it could be a regular way to shift excess stock from the warehouse. Whatever your goals, you must review progress and adjust your strategy accordingly.
One thing's for sure, the pop-up store is a concept that more and more customers are becoming familiar with…and they enjoy it too. So why not see if your pop-up shop could become a reality?
Copyright © 2015 James Trotter, Colour Graphics.
More on this topic: