For this month's issue of MyDonut, we've interviewed three small businesses that have been around for more than 100 years. Two of them sent us some great photos – so good that I thought we should have a blog post about them.
As a child of the 1970s - an era before the great retail modernisation of the 80s, I find these images of Parsons the Jewellers in Bristol and London cheesemonger Paxton and Whitfield familiar and strangely comforting. Perhaps you will, too.
Paxton and Whitfield, est 1797
This is the Jermyn Street shop interior as it was in the 1960s: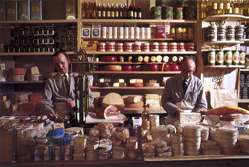 The exterior of the shop looks today much as it always has – it still has a reassuringly old-fashioned air from the outside:
But the inside is much more modern, though it retains its 'artisan' feel: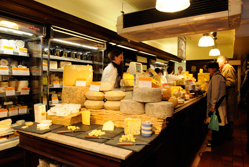 Parsons the Jewellers, est 1710
The three images show the changing faces of Parson's the Jewellers, which has inhabited three different sites in Bristol over the last three hundred years.
The original Old Market premises before being demolished to make way for a roundabout in 1966. Just creeping into the top left is the base of a statue of Cupid that was perched precariously on top of the fascia. The statue disappeared when the shop was moved and was rediscovered above a jeweller in Hatton Garden, London, where it remains.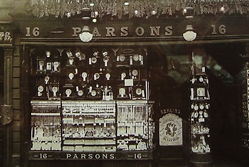 I'm not sure about the location of this shop but, there is a clue in the newspaper advert for Parsons next to the photo. I'd say it's the Clare Street branch, opened in 1923 and long since closed.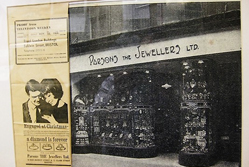 The shop now resides in The Mall in the centre of Bristol – you can see a photo of the modern-day premises here: http://www.parsonsjewellersltd.co.uk/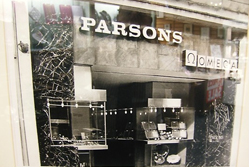 If you're interested in photographs of small shops, then I strongly recommend Shutting Up Shop: The Decline of the Traditional Small Shop by the photographer John Londei. It's a marvellous book which powerfully evokes an era before mega-chains when almost every shop was a small family-run businesses and each had its own unique flavour. Is this something we'll ever see again?
By the way, we'd also love you to send us your own images of old businesses and business premises. Just email them and we'll try to include them on the site.