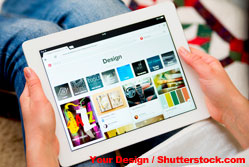 The way businesses and customers interact is changing - and graphics, photographs and videos are making a bigger impact on consumers than ever.
If you are launching a campaign, looking to strengthen your marketing materials or raise brand engagement, you should consider whether you are making the best use of visual marketing methods. If you want to get a great return on your advertising, it might be time to up your game with visual-based marketing content.
Today's brands, big and small, are faced with the challenge of appealing to easily distracted viewers. Many consumers will look at an advert or web page for just a few seconds before moving on - if you don't capture their attention right away, you could lose their interest for good.
To build a loyal and engaged client base, pick your images carefully. That image is likely to be remembered and perhaps even shared by viewers. Studies show that we remember 10% of written information, on average, but when illustrated with a strong image information retention rises to 65%. An image helps to connect your audience with your message, and will strengthen your brand moving forward.
Marketing methods: visual versus textual
Many social media campaigns use image-based platforms such as Instagram, Pinterest and even Tumblr to showcase their products; and the use of well-designed graphics can really enhance these marketing efforts. Studies have shown that for 80% of consumers, bright visuals are more attractive and lead to more conversions than text-based or simple image posts.
We've seen a dramatic rise in consumer engagement when presenting information in a visual style rather than as a textual piece. Employing a graphic designer to help with your campaign could also make a huge difference.
A recent Superbowl advert released through Snapchat by Gatorade received over one million views in its first 24 hours. This is similar to the audience reached by TV ads during the game - but the cost is significantly lower.
Businesses can make big savings on marketing while reaching the same audience - and online ads can be watched again and shared, increasing reach.
Brand relevance and image engagement
Adverts and marketing pieces that are accompanied by a relevant and appealing image are 94% more likely to be viewed, according to recent research. This means that the right image is more eye-catching than a headline and is the key to getting noticed.
Studies suggest that people are more likely to respond to pictures they can relate to, so images of people are usually effective. But graphics are also important as they can deliver a lot of information in a simple format.
You also need to understand your audience when choosing images. Instagram, for instance, has a young following that like bold, bright images; short clips and infographics also perform well in this environment. Facebook has a much broader market, with only 33% of users in the under-30 age bracket. On this platform, strong visual content works best when it's accompanied by word-based content.
Sponsored post
Copyright © 2016 Swapnil Kulkarni, Marketing Analyst at VoucherBin.co.uk. He understands business objectives, and tries to stay informed on market trends and implement right practices by using web analytics and market research tools.
More on this topic: