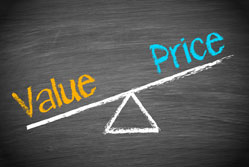 I was talking to a client in the retail sector and reviewing the important figures in his company. A quick overview showed us that the sales were taking a dive and something needed to be done to increase those sales before the end of the quarter.
My first thought was to look at pricing strategies and consider an end of season sale to boost takings.
As a business coach, I usually guide my clients to the right answers. But in this case, the error in judgement and the potential profit impact was so high that I had to immediately banish the thought.
The dangers of discounting
The idea that people will buy from you because you are the cheapest is totally flawed. There is a difference between price and value and the truth is, people are looking to buy value, not spend the least.
Discounting your product actually has a much larger impact on your business than you may think.
Imagine that your customer is paying £100 for your product or service. Let us take £60 as your direct costs. So with a total price of £100 and direct costs of £60, you have a gross profit of £40.
Now let us assume you decide on a 10% discount. You are reducing the amount that you get from your customer to £90. Your direct costs, however, remain the same at £60. Now you are making a gross profit of £30. The decrease in just 10% of the price is creating a 25% decrease in your actual profit. And the smaller your margin, the bigger the drop in profits.
So if you are planning to discount your product, make sure you assess the real impact on your business. Most of the time, it won't be worth it.
The impact of increasing your prices
When business owners come to me for business coaching, they are usually trying to take their business to the next level. And yet, the only time they have ever increased their prices is because of an increase in costs.
This is a huge missed opportunity, especially for those who provide services. If you have been practicing your business for some years, your brand has gained value. You have proven that there is a market for your expertise and that in itself makes it more valuable.
When the value of your product or service has changed, you can reconsider your pricing strategies.
If your costs have not gone up, a small price increase can dramatically increase your profit margin. If your price is £100 and your costs are £60 and you put up your prices by just 10%, you are actually increasing your profit by 25%.
When you increase your prices, even by a small incremental amount, the effect on your profits can be just as dramatic as the damage that comes from discounting your products.
So how do you increase prices?
You cannot just increase prices whenever you like. You have to assess what the value is of the product you are offering and whether your price truly reflects that value. So your pricing strategies should focus not on price but on value.
One way of adding value is to assess your expertise. As a long-standing and trust-worthy business, you provide assurance to customers and you can add a premium for that assurance.
Another way is to identify your competitors and figure out how and why you are better. If you are not, then make yourself better so you can increase your prices.
What if you still want to tempt customers with lower prices?
It is possible to add value in some way without discounting, while providing a lower fee to your customers. You can do this by providing offers instead of discounts.
A really great example is what supermarkets do, where they offer vouchers for "£6 off your next £40 spend" or something to that effect. You can also create "buy 2 get 1 at half price" deals and add value without discounting too much much.
If you feel that you absolutely must offer a discount then make it work for you in some other way. An easy way to get value for your business out of a discount is to relate the discount to an early-bird payment or shorter credit terms such as, "10% off if you pay up front".
But whenever you can, say no to discounting. Instead, come up with smart pricing strategies to provide value without slashing your profits.
Copyright © 2015 Graham Thatcher
More on this topic: