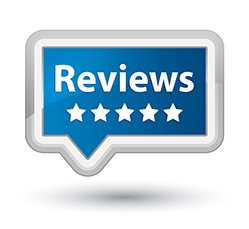 As a small business, it's always tough to manage what's going on offline and online simultaneously.
As a starting point, have you ever checked what comes up when you search for your business online? It is likely you will find blogs and articles about your business, but also reviews and ratings. With over 42 million reviews submitted to Yelp alone, it is worth dedicating some time each week to the world of online reviews.
Here are four top tips for dealing with online reviews:
1. Online is no different from offline.
If you pride yourself on delivering great customer service in person, then you should be doing the same online. Make sure you are actively engaging with and reacting to reviews from customers online. Use the same considered approach as you would if the person were leaning across the counter talking to you.
2. Implement any relevant feedback.
Are your reviews showing any common threads? As an example, are they all mentioning that the toilet door is broken? Online reviews are a great way to hear honest, useful feedback from customers. Many business owners now look through their online reviews with employees during monthly staff meetings, and implement constructive feedback accordingly.
3. Respond diplomatically to all reviews. When a customer gives you feedback face to face, do you stand there and say nothing? No, of course not.
Online feedback and reviews are just the same. You can respond to reviews on Yelp personally, for instance, either privately or publicly. A private message is ideal for thanking patrons and also a good first step to find out more information from a dissatisfied customer.

The other option is a public message that is visible to everyone. A public message can be your best PR tool when used properly. Make sure when you post publicly, that you thank the reviewer for their feedback, state your policies and flag any inaccuracies in the review in a non-aggressive manner.
4. Negative review? Take 24 hours away from your computer.
Getting a negative review can be disheartening for any small business. The first thing to consider is that you can never please 100% of your customers 100% of the time. That's true of life offline as well as online. If you find yourself getting irate or emotional about a bad review, make sure you log out, and return to respond a day later, when you've had time to figure out what to write. This is a great technique when replying to difficult emails or voice messages too!
Rosie Akenhead is the manager of Local Business Outreach at Yelp UK & Ireland.