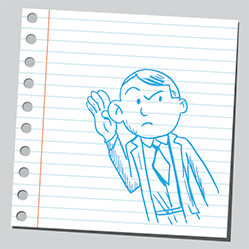 The sun is shining and I'm thinking about Christmas. My diary already contains activity for 2014. No doubt I'm lagging behind some in their marketing campaign planning.
The Chartered Institute of Marketing (CIM) definition of marketing includes the word "anticipating" and that's so true — we're always trying to be one step ahead of the marketplace, the target audience, and the competition.
Even if a marketer is within the target audience for a product or service, it's difficult to distance yourself — we're hard-wired to watch out for advertising messages.
It's also true that many marketers are not in the real world for the majority of the products or services they're entrusted with promoting.
According to TGI data (2012 Q2) marketers are:
Nine years younger than the UK average consumer;
300% more likely to want to get to the top in our careers;
250% more likely to own a tablet;
233% more likely to keep up with the latest technology.
For the past eight years, online market research agency fast.MAP have tracked the gap between what consumers are doing and what marketers think they're doing. And we continue to see a gap — sometimes over-estimating, sometimes under-estimating likely responses and preferences.
In addition, the report shows some marketers persistently cling to theory, rather than listening to consumers.
The importance of listening
Listening via social media builds on traditional research methods such as surveys and focus groups. But be warned — unlike the carefully designed structure of traditional research, social media conversations are unbounded.
Real-time listening can also deliver benefits in areas such as customer service and crisis early warning. American Express recently reported that 25% of consumers who complain about products on Facebook or Twitter expect a response within one hour!
Online monitoring
Beginning with "mentions", there are numerous free (and paid for) online tools that can be used to listen to conversations about your product, service or brand.
Google Alerts and Twilerts provide timely email updates for company name, brand name or keyword mentions, while management dashboards such as TweetDeck enable you to set up multiple columns for everything you wish to monitor — mentions, direct messages, specific accounts and keywords (highlighted with a hashtag, or #).
Every good conversation starts with good listening and those marketers that listen to their audiences are better placed to manage conversations and create communications that consumers will respond to.
Luan Wise is an expert contributor to Marketing Donut and is a freelance marketing consultant.