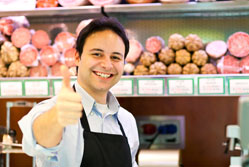 Small businesses have unique, localised advertising needs and are often subject to financial and logistical restrictions when it comes to marketing. So which approach is best – promotional or experiential marketing?
Promotional marketing, such as discounts and offers, focuses on creating an incentive to persuade consumers to take action by immediately purchasing a product.
A recent UK survey found that promotional campaigns produce a higher ROI than radio and outdoor advertising and one equal to that of TV commercials and print ads. 56% of the people surveyed felt more favourable towards a brand after receiving a promotional item and 79% said that it made them likelier to do business with the company.
However, giving things away isn't always an option for businesses on a budget. So how can small firms compete with larger rivals?
Targeting a niche audience
For starters, they can focus on localising the nature of their campaigns and developing memorable ways of differentiating their messages from competitors. A niche can be a valuable commodity. Large companies often won't bother targeting small segments of the market – and that opens the door for smaller specialised companies to flourish.
Creating an experience
Experiential marketing techniques provide opportunities to directly and creatively engage potential consumers. One of the simplest ways of achieving this is by celebrating success or growth with the local community. Whether a business has opened a new location, launched a new product or won an award, take advantage of this opportunity and throw a bash, offer a limited-time service or sponsor a charity event.
Participating in local events
Actively participating in your local community by sponsoring school or sports teams, operating a stand or entering a contest at a local fair, hosting an annual public cook-off will make customers happy and appreciative. Those feelings will, in time, foster trust, loyalty and provide an incentive to support your business.
Word of mouth
Inspiring word of mouth is key to drive small business sales. A recent Nielsen survey found that 49% of consumers say that friends and family are their top sources of brand awareness. And another study revealed that 77% of consumers are more likely to purchase a new product after learning about it from people they know.
The more involved a business is in its community, the more of a stake the community will take in the business. By directly engaging with local consumers, small businesses have the advantage of building real relationships and appealing to customers' emotions. That's how experiential marketing can deliver results – even on the cheap!
Copyright © 2014 Duncan McCaslin, director of Kreate.