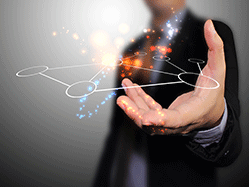 In these times of web 2.0 and online social networking, it's all too easy to forget the value of meeting face-to-face.
Trade shows, conferences and seminars are all great networking opportunities — they can help you raise your profile, meet new customers, connect with suppliers and more.
Networking events are sometimes viewed as a bit of a skive, but as anyone who attends them knows, they can be hard work — and, used well, this time out of the office can be invaluable to your business.
Online tools have made face-to-face networking less stressful and more time efficient, and a little online research can bypass that awkward first stage of a meeting.
This research can include checking the website to see who's exhibiting and taking time to read any pre-event emails and literature to devise a plan of attack.
You may have the chance to catch up with existing suppliers or meet new ones. Contacting them to arrange a time to talk can help you get the most out of your visit — alternatively, arrange a post-event follow-up if you need more time.
Try to find out who else will be attending the event. Perhaps there's a prospect you've been trying to contact or an ex-colleague you'd like to share industry info with.
Here are a few ways you can find this information.
LinkedIn
Though there's no longer a dedicated application for events, there are still ways to spot who might be attending. Check status updates to see if anyone has mentioned the event. Update your own status and invite your connections to respond.
Many large events now have a dedicated LinkedIn group, where you can find people who share your interest. Identify group members who are existing connections, read the latest posts, start a discussion about meeting up (don't make it too much of a sales pitch) or send individual messages to people.
Eventbrite
Many event organisers use Eventbrite (embedded in their own website) as a registration tool and to take payment. You can also use it to search for events in your industry or those happening locally.
Look for a list of those who have registered, search for them on LinkedIn and make contact before the event.
Twitter
As well as following event organisers on Twitter who may be tweeting in the run up to an event, many events have a hashtag you can follow to find out what exhibitors are up to and who else is planning to visit.
Again, this gives you the opportunity to check out profiles and connect before the event. Use the event hashtag to tweet that you'll be attending, and ask if anyone wants to meet up. It's that easy!
On the day
Use tools such as Foursquare or Facebook to check in to the event, so exhibitors and other delegates can find you. Tweet to say you've just enjoyed a particular presentation, or that you're about to take a coffee break and you're looking forward to chatting to other delegates.
And finally…
So, you did your preparation, made some valuable contacts and had a great time — remember to carry on networking and follow up everyone you met, as well as those you may have missed. Explore the event hashtag stream and check out the LinkedIn group. A quick "great to meet you/see you again" or "sorry I missed you" note will keep the door open for future conversation.
Luan Wise is an expert contributor to Marketing Donut and is a freelance marketing consultant.