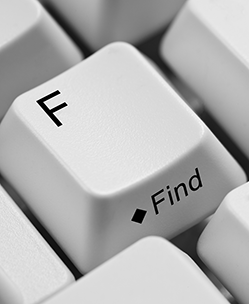 A company recently asked me to review one of their proposals.
I quickly realised they had made the common mistake of talking too much about themselves and their proposition, and too little about its impact on the beneficiary.
So, I used the "find" function in word, and discovered that their 22-page document contained:
Their company name 149 times (the customer's name appeared 5)
"we" 78 times; but "you" 11
"our" 51: "your" 7
Not customer-focused… in what was supposed to be a customer-focused document.
It took me under 20 seconds to find this out. Their response: "We're devastated. We had no idea. We'll never write like this again."
And they haven't.
How many techniques are there that can change you forever and in only 20 seconds?
What you can "find"
Here are examples of what you can search for using "find":
The word "you" and the beneficiary's name. These should appear more times than "we"/your name. It's worth checking every document for this — your proposals, brochures, website and so on.
"And" and "but". People often use these words to join two short sentences into one long one. But long sentences are harder for people to read quickly.
Words that you know you use a lot.
Quick improvements
If your searches uncover things you don't like, the solutions are straight-forward:
Change the focus from "We do X" to "You want to achieve Y. We can help by doing X".
Replace "and/but" with a full stop.
Use a thesaurus to find alternatives.
This is one of those tips that you might feel you don't need. But my customer didn't think they needed it either. And since it only takes 20 seconds to do, it's worth trying. You never know what you'll find.
Action point
Choose a document that is complete/near completion. Search for the words that will show you what you need to know about your content. Make the changes you need to transform its impact.
Andy Bounds is a communications expert, speaker and the author of The Snowball Effect: Communication Techniques to Make You Unstoppable. You can sign up for his free weekly tips here.