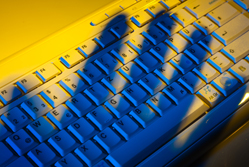 Recently I decided to run some of the articles I had previously sent to prospective employers through a plagiarism checker. As a professional writer, I take copyright law extremely seriously.
Unfortunately, I found that one of the companies had published one of the pieces that I had sent to them with my application. Although I was pleased they enjoyed the article, I was annoyed that they had flouted copyright law by not seeking my permission. I contacted them and it was quickly taken down.
In theory, everything online is covered by copyright law. This blog on Law Donut has more detail. However, the fact is that millions of people are flouting this legislation.
So how can you protect your intellectual property online?
According to 2012 research by Ofcom, almost 50% of internet users cannot accurately say whether they have downloaded, shared or streamed copyrighted content. And many of the respondents admitted to knowingly copying material because it was convenient or free to do so.
If you regularly publish articles, images or videos online, you will probably have these stolen at some stage. Often, these incidents are misunderstandings, as many people don't understand that material in the public domain is not always for public use.
Protecting articles online
Copyscape makes it simple for writers to keep track of their work. Just copy and paste the URL of your article into the box and Copyscape does the rest. Although it only lists the top ten results in the free version, I have used this to catch people in the past.
Talkwalker allows you to set up alerts for companies or phrases and will notify you when someone has mentioned your work online.
You can also use Google to find examples of plagiarism. Simply copy and paste a chunk of text from one of your articles and search for it online.
You can also use analytics tools to check out referral data. For example, if an unusual amount of traffic is coming from an unexpected source, they might have used your article. Although this might not be the case, it's always worth a look.
Protecting your images and videos
Social media has made it incredibly easy for videos and images to be reproduced quickly. Take Pinterest. Much as I love this network, most of the images on it are arguably copyright violations. As Pinterest says itself, its pins are "for good stuff you find anywhere around the web."
If you are concerned about people grabbing your images or using screen grabbing tools to access them, you can protect yourself in the following ways:
Uploading an image with a watermark can dissuade individuals from using it. This clearly shows who the owner is as well as their contact details.
Another option is to only upload low-quality versions. People can use a cropping tool to cut out a watermark, so using low quality images can be an extra deterrent.
Use Google to do a reverse image search and uncover your pictures being used elsewhere. Simply drag the item into the search box and Google will find copies located on other pages.
Copyright © 2014 Tom Chapman, a content specialist working on behalf of Foyles bookstore.