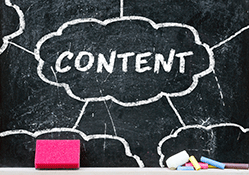 Creating great content is a sure-fire way for small businesses to attract and keep customers. Research shows that businesses that blog 15 times or more each month get five times more traffic than those who don't blog at all. So it's clear that content is key to generating leads and driving traffic to your website.
Yet, according to Hubspot, only 10% of companies have a dedicated content creator. That means, the vast majority of small business owners have to do all the hard work, and the marketing, themselves.
However, Hubspot research also shows that businesses that create new content just once a month are still 49% more likely to have acquired a customer through their blog. So even if you can only create a little content, you'll soon be reaping the benefits.
But where does a small business that's new to blogging start? Or if you're already blogging how do you keep the ideas flowing? Ask yourself these questions:
1. Who are my clients? If you already have your marketing personas carefully scripted out, go back to them. Think again, have their needs changed? What are their business pains? Can you still provide a solution? And importantly, have you really been considering your targets when creating your content?

2. Why will they listen to me? What do you offer that makes people want to listen and how will your content benefit them? The average prospect doesn't want to hear a sales pitch, so what can you provide that will break down those walls and grab their attention? Authentic, intelligent and educational content is a great way to attract new clients, and keep them.

3. What search terms are leading people to your website? Use these to create content that answers their questions, but keeps them coming back for more.

4. What has been popular in the past? Remember that blog that got 2,000 shares six months back? Is it still relevant? Or could you update it and share it again? Think about the lifespan of your content — are they all one hit wonders, or do they have a longer shelf-life? Why not consider writing new posts on topics that have proved popular? If they're still getting hits then it makes sense to provide your prospects with the great content that they're looking for.

5. What do I want them to do at the end? Do you want potential clients to leave your page, or do you want them to download an eGuide? A simple call to action, a comment asking people to get in touch with their views, and at the very least, social share buttons are the next step in the lead nurturing funnel of love.
Is this the end?
It's just the beginning. But while these tips won't turn you into a modern day Shakespeare, what they will help you develop ideas and pull new customers to your website — and fundamentally, that's what content marketing is all about.
Rhian Morgans is an online PR executive for Tomorrow People.