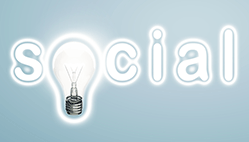 Social media has the potential to build brands, get people talking, and bring in business leads. And it moves fast. Here are three new social media developments and how you can use them to boost your business.
1. Lights, Camera, Vine
A lot of people I meet tell me: "I'm on Twitter but I don't really get it." If that's you, the microblogging site is a concise way to share news, opinions and links, contributing to a constant stream of information. By following appropriate people, you build an engaged mini-community with specific interests, for example this network of local foodies. Now Twitter has launched Vine — an app that allows you to share micro videos on social media sites.
What does it mean for business?
Vine is the new six-second video app for Twitter. Instead of being limited to text, you can use moving images to showcase a new product, create a comical sketch that people will want to share, or even show your team in action, adding a friendly face to your business. For instance, Bacardi has posted a video on Vine showing you how to make a mojito.
2. Mind the gap!
We're not sure if this one is here to stay or not, but Twitter has introduced the ability to space out your 140-character messages on Twitter, paving the way for messages with line breaks and bullet points.
What does it mean for business?
In a crowded and fast-moving stream like Twitter, anything that helps your message to stand out is a good thing. That being said, my advice is to use it sparingly. Overuse of gimmicky features can turn your audience off quicker than you could say #fail.
3. The #Facetag?
The recent news that the biggest social network (Facebook) is about to steal a key feature from the second biggest social network (Twitter) caused a bit of a flurry and has even spawned protest groups. We're talking hashtags.
What does it mean for business?
Hashtags are a good way to encourage and take part in conversation around your product or industry. If, for example, you're at a trade show, tweeting with the hashtag is a way of getting your message in front of those interested in or attending this event.
Facebook — traditionally more of a friends-and-family network — is trying to get in on this open conversation aspect of Twitter. If it works well, this could be yet another channel to make your voice heard and reach potential customers.
Ahmed Ahmed works at Zoober Digital Training
Find out more about Vine in our article, Six reasons why you should be using Vine.