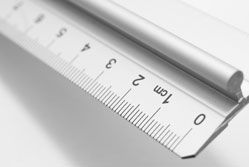 Albert Einstein said: "Not everything that counts can be counted, and not everything that can be counted counts".
Einstein has hit the social media nail on the head. The benefits of social media can be both tangible and intangible and not every aspect of your social media success can be measured. So how can you ensure you're getting a clear ROI — or "return on Involvement" in social media.
There are many ways to measure your social media success. Getting a positive mention from an industry expert or getting your content in front of key people can be invaluable. Social media gives you easy access to specific audiences so if you are using social media for business, the first thing you need to do is ensure you're fishing in the right pond. There are many social media sites, all with different purposes and audiences; find out where your audience is lurking and then focus your efforts here.
But once you've got a social media strategy, how do you measure its effectiveness?
Set clear and realistic targets
Set clear objectives and realistic goals and understand why each is a measure of success. Targets could include: reaching a certain number of new followers, achieving lead conversions or re-tweets. If you're hitting these then you'll know your social activity is working, and if you're not, look at where you're focusing your efforts. Keep pushing yourself by gradually making these objectives harder to achieve and as your social media skills increase so will your business success. One measure to employ is by asking: "Where were we able to start this conversation that led to the sale?".
Social media measuring tools
There are many social media management tools out there to enable you to monitor every aspect of your social activity. These include measuring your click-through stats, likes, re-tweets, follower growth and post shares:
Sites like Hootsuite, Tweetdeck, Sprout Social and Meltwater Buzz offer social media "dashboards" that allow you to post and monitor the success of all your posts, showing conversation volume and the sentiment of mentions. These platforms can also flag up all mentions of search queries you enter.
Saving time and money
Social media provides cost effective access to powerful marketing, networking and lead generation tools. It has truly levelled the playing field for small businesses but it's essential to have a strategy. By measuring how much time and money your business has saved by using social media to achieve its goals faster, you can see a clear "return on involvement". If you are spending hours on social media with very little to show for it, then you are doing something wrong. One quick and easy time saving exercise is to schedule "proactive" tweets and posts (without looking like a robot); then you can engage more "reactively" as required.
Analysing brand recognition
Social media is a great way for a business to raise brand awareness. Use monitor tools to search for your brand name. Monitoring your Twitter mentions allows you to see when and why people are talking about you.
Mentions by influencers
Positive mentions are difficult to measure; if you are being re-tweeted and discussed by industry experts then you know you're "doing" social media right. This shows that you're creating and sharing engaging content that others find useful. Ensure you set clear goals for who you would like to interact with online and if your content is being picked up by these people then this is a clear measurement of your social success.
Follower growth
After you post content about a specific subject, you may see your followers, likes and favourites increase. This is because people follow feeds and people who provide rich and interesting online content. If your followers/connections are constantly increasing and, in particular, you're getting lots of new professionals in your sector, then your social media activity is clearly working. Keep posting engaging content — including your company blogs and news as well as third party content— to give people a reason to continue following you.
Better internal collaboration
Social media can foster better employee engagement and communication between departments. Businesses that use social media often have a better collaborative working environment as they reap the rewards of the cost and time efficiencies that social media can bring. And through better internal communications you will soon see better external communications.
Copyright © 2014 Emma Pauw, social media writer, We Talk Social.