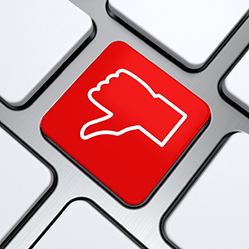 British Airways, Cineworld and Nestle — whether it's posting sarcastic replies or not replying at all, they've all been caught up in a customer complaint saga on social media over the past year or so.
And if brands like that can get caught out, there's a chance your small business could too.
Here are five quick tips to help you deal with customer complaints on social media:
1. Respond quickly
The whole point of social media is that it's always connected and 24-7. Whether it's within working hours or out of them, you should always try and respond to customer complaints on social media quickly and professionally — the longer you leave it, the more damaging it could be.
2. Keep it professional
Yes, the customer might be making a stupid complaint or one which they have no right to make, but they're still a customer at the end of the day so you need to treat them with respect and professionalism — fail to do so and you risk losing them and everyone they know as customers. Remember, you're representing your brand in a public arena so ensure your replies are polite, courteous and tie in with brand values.
3. Treat it like an in-store complaint
Just because the complaint is being made on social media, there's no reason why you should treat it any differently to an in-store complaint. Think about what you'd say to a customer if they made the complaint to you in person and then communicate this via the relevant platform.
4. Don't make the same mistake as Cineworld
When a customer questioned Cineworld's sky-high cinema prices, the company's social media manager replied with a series of downright sarcastic and rude comments. OK, so they might have thought they were funny — but when a customer is making a serious complaint, humour definitely isn't the way to go.
5. Choose an employee you trust
If you've got an employee handling your social media accounts, there's a strong chance you already have lots of trust in them — but would you feel confident if they had to handle a complaint? At the end of the day, it's your brand they're representing, so you need to make sure they're on board. Be sure to give them proper training on your brand's policy regarding complaints — or alternatively, ask them to pass complaints on to another member of staff who is familiar with your policy.
Amy Edwards is the SEO manager for Bubble Jobs.