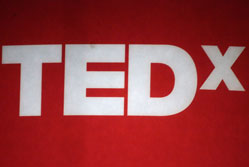 TED talks and the independently organised TEDx talks are hugely popular with both speakers and their audiences. An opportunity to speak at such an event is on the bucket list for many people, so when I was invited to speak I jumped at the chance.
And yet ten years ago, I had a debilitating fear of speaking in front of groups. The turning point came for me one day in a team meeting. I was so nervous I couldn't give a short five minute update and someone else had to step in whilst the entire room looked at me. I was mortified. That day I decided to do something about my situation.
Joining Toastmasters enabled me to improve both my confidence and my speaking performance. When you join you get a manual with ten speech projects that help you gradually build your confidence and skills as a speaker. The great thing about having a structure to follow is that you hone your speech writing style and understand the value of preparing your material well.
Here's how I prepared for my TEDx talk, which was entitled Why women need to speak up; a subject very close to my heart.
Preparation
I wanted to share my message at TEDx without notes and be as conversational as possible. I also wanted to include facts and figures that supported my message. I spent many hours researching my material, writing and rewriting my speech and rehearsing so that I felt comfortable enough to speak in front of a live audience as well as a video camera. Preparation helps you feel comfortable enough to get out of your head and just be present in the moment to really connect with your audience.
Timing
All TED talks have a cut-off point of 18 minutes, and for good reason; people's attention spans are limited so you have to get your ideas across quickly.
At Toastmasters, speeches are timed to ensure that the meeting finishes on time but also to help you learn how to keep to time.
Working through my speeches within the club helped me understand how to craft and deliver my message within a designated time slot. Also, when you're really familiar with your material and know what it feels like to speak for five minutes or 30 minutes you can adapt when you get thrown a curve ball.
Quite often meetings or seminars go over time because other speakers haven't prepared properly. This has a knock on effect. So, when the chair says "unfortunately now you only have half the time to get your message across" you can quickly adjust and deliver.
Evaluation
At Toastmasters every speech is evaluated. Practising in front of a live audience week after week and getting this feedback has been one of the most beneficial aspects of my development as a speaker.
Far too many presenters don't understand that the audience experience is key. Rehearsing and testing your material is crucial to ensure you engage your audience and create a good experience for them. Getting feedback helps you understand what the audience sees and hears.
Final thoughts
I used to be terrified of speaking in public, but with focus and effort I got to a stage where I felt confident and competent - and now I really enjoy it.
Whether you are as terrified as I used to be, or you simply want to ensure your talk is the best it can be - follow my advice and you'll ensure your moment in the TEDx spotlight is a success.
Copyright © 2015 Jay Surti is a member of Toastmasters International.
More on this topic: