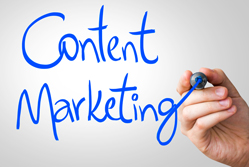 Content marketing is a great way for start-ups to promote their business but the opportunities extend beyond the main social media sites. Here are some key tools — and inspirational examples — that can help you build your brand presence using online content.
Infographics
Infographics are ideal for visualising big data and complicated concepts in a simple, fun way. Despite their increasing popularity, the best examples still have the power to command attention and — importantly — get those much-valued social shares.
Many infographics now provide an interactive element, such as Animagraffs' How a Car Engine Works. With shares across various social sites already well into the "viral" zone, this is an example of how far and wide an infographic can reach. All with an important added SEO benefit: they can be picked up by publications that are relevant to your industry.
Online resources
PDFs, ebooks and guides — when executed with panache — are all fantastic online resources and a great way to get your business in front of new customers' eyes. A good example of this in practice is software company Hubspot's online marketing library. Offering templates, guides, webinars and ebooks on everything from ecommerce to social media, the library's resources are available at no cost. All you need is your email address. Hubspot is one of the most respected marketing websites around, so what you're getting here is a lot of great expertise and insight, at zero cost.
Google+ Hangouts
The Google+ Hangout can be perfect for providing an immersive and engaging user experience. Both of these were factors in the massive success of Cadbury UK's Google+ Hangouts, which involved fun stuff like live tasting sessions and boosted their follower count by 150,000 people. Google has also started pushing Hangouts into the enterprise space. It has recently announced that customers will no longer need a Google+ profile to use Hangouts, making it a more viable option for business users. Business customers can now use their existing login details and invite up to 14 others to join their HD video chats.
YouTube
YouTube provides some really interesting opportunities for content marketing and with the right strategy in place, it can be a wonderful place to encourage creative customer interaction with your brand. For a striking example of YouTube content marketing in action, check out high-definition photography brand GoPro's YouTube channel, which encourages anyone with a GoPro device to record their experiences. The videos show a wide range of spectacular stuff — from feeding cougars to bungee jumping. And with the GoPro logo and slogan bookending each clip, the brand name is prominent but unobtrusive.
Blogging
Blogging continues to be a huge deal in content marketing and there's no sign of that changing any time soon. An engaging and very modern approach to blogging forms the basis for the Guardian Angel content hub from financial services provider AXA Business. The hub is home to an array of accessible and highly relevant content, including blogs, video clips, downloads and guides designed to support and inspire new business owners. Supplying clear, useful and relevant content on everything your customers might be looking for, presented in a user-friendly and engaging way, is a great way to encourage customer loyalty.
SlideShare
In terms of popularity, SlideShare is the YouTube of presentations. It's a great place to impart concise, easily digestible information about what your company does — and it's especially good for B2B presentations. Your presentations can be accessed easily — all you need to supply is a link and your presentations are instantly viewable.
Content amplification
Once you've created your content, it's time to share it. The more awesome your content is, the greater the number of potential links, views, shares and engagement it will receive.
Putting your content out there goes way beyond just Facebook and Twitter. In fact, these days it seems that Facebook is becoming (whisper it) obsolete when it comes to content marketing. Paid-for content recommendation platforms such as Outbrain, Nrelate and Taboola are also a great way to promote your content to a number of very high quality media sites etc and operate on a Cost Per Click basis.
Copyright © 2014 Matthew Marley, a digital marketing blogger.