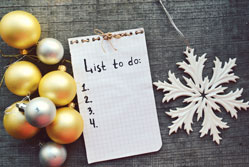 It's time to start planning for Christmas and there are six key areas that business owners need to focus on: internal communications, audience segmentation, attribution, email targeting, display advertising, and affiliates.
Peak planning board
Set up a cross-departmental "peak planning board" so that everyone in the business understands their role in the build-up to Christmas. It is especially important for marketing and fulfilment teams to be in constant contact as seasonal campaigns and promotions must be supported to allow the supply of high-demand items. Marketing teams can also help drive stock movement by creating promotions for items that are lagging behind in sales.
Segmentation
Businesses need a deep understanding of shopper behaviour in the build-up to Christmas so they can segment and target their marketing effectively. Using insights from previous years, it is possible to identify the frequency and value of a customer's purchases, whether they buy from you throughout the year or only at Christmas, or whether the type of purchase they make changes at Christmas. This information will help you determine the level of personalisation and the type of marketing message to apply to different customers.
Attribution
Advanced attribution takes account of every touchpoint; every device, platform or channel used by the customer during the buying journey. And it can provide valuable insight into customer behaviour. It allows you to measure return on investment for individual channels and campaigns in near to real-time, which in turn opens up opportunities to adjust campaigns and divert resources on-the-fly to support successful channels.
Email
The upturn in online spending in the build-up to Christmas brings an increased risk of basket abandonment as customers save products they see for comparison or purchase later. It is important to have a clear strategy in place for following up on abandoned baskets and incomplete purchases – including when to start offering discounts or other perks to entice shoppers back to their basket on your site. Consider shortening your usual timeline for this follow-up, particularly as Christmas gets closer. Email-based discounting campaigns can also be useful for implementing "contingency plan" campaigns in the event that revenue targets are not being met.
Display
Competition for advertising space during the build-up to Christmas is intense and the early bird catches the worm. High-impact display advertising formats such as home page takeovers, billboards, pushdowns and skins get snapped up quickly – especially on sites with high prestige or traffic volumes. Seasonal campaigns should be planned and space booked in September, to run from November. This means that advert design and copywriting needs to be finalised by September.
It is important to think not only about special days such as Black Friday and Cyber Monday, but also about the January sales period. These slots also get filled up very fast by premium publishers.
Affiliates
Partnering with affiliates can be an effective way to increase the reach and penetration of your marketing campaigns; something that's vital to customer acquisition at Christmas when so many voices are competing to be heard by the same audience. To ensure maximum impact from your Christmas campaigns, you should begin working on partnership agreements with affiliates from September, so that they go live from November.
The popularity of online shopping in the run-up to Christmas increases every year and Black Friday has intensified and extended this period of heightened demand. This trend isn't going anywhere; retailers must act now to ensure they are adequately prepared.
Copyright © 2015 Luke Griffiths, general manager of eBay Enterprise Marketing Solutions — EMEA.
More on this topic: