Here's an insight into how things work on the Marketing Donut:
Simon: What are we doing on election day, James?
James: I was thinking we should set up the live blog.
Simon: And tweet?
James: And tweet, yes.
Simon: Are we going to do anything in the evening? Or the next morning?
James: Yes, sure, though a lot of the results will be coming through quite late. And if it's a hung Parliament it's likely to go on for a bit.
Pause.
Simon: How would you feel about working late? I mean, really late?
Pause.
Simon: And then quite early?
Pause.
James: Are you asking me to work all night?
Simon: Sort of, yeah.
James: You mean a blogathon?
Simon: And a Twitterthon. A TWITTERBLOGATHON. What do you think?
Pause.
James: Ok. But only if you do it, too.
Simon (shrugs): All right then.
And so it was decided. Between Thursday 6 and Friday 7 May, James and I will be doing a marathon round-the-clock, hour-by-hour, all-night-and-into-the-next-day never-before-attempted 24-hour general election Twitterblogathon. Just for you. It's a madcap scheme, but it might just work.
The thing is, we've got a touch of election fever here on the Donuts. This week the second leadership debate was held in Bristol (where one half of the Donut lives) and we were there, shouting at the big screen and enjoying the heckling by assorted special interest groups.
We're trying not to go overboard, but we've created Election central, your guide to all things election on the Donut websites. It's got blogs, news, features, a poll - you name it. On the Marketing Donut, we're keeping an eye on the way the election campaigns are being run; on the Start Up Donut, we're looking at the issues from a small business point of view. I reckon we've got some good stuff going on, and I especially recommend our MD Rory MccGwire's series of blogs on key election issues for small firms and our straightforward breakdown of what each of the parties is promising small firms.
UPDATE 28 April: We're now going to make it a sponsored Twitterblogathon on behalf of The Children's Trust, which is holing its annual National Doughnut Week from 8-15 May. Please sponsor us!
Jam leg emails?
After having lots of fun on Twitter in James's absence last week, I twisted his arm to let me have the Marketing Donut Twitter account every Wednesday. This week, I posed the question: "What's the collective noun for people who work in marketing?". The responses, as you can imagine, ranged from the satirical to the downright insulting. Here are the printable ones.
I also posted a picture of my to-do list and asked you to do the same. We got some great responses, including James's own roundabout request for a lighter workload, Jake Johnson's amusing guide to avoiding work, a Spanish to-do list from Venezuelan journalist Mito Dona Cruces and a description of a day in the life of an African rodent from our special friend the Meerkating Donut.
But my favourite response came from Ben Park at BJS Productions. Having looked at my to-do list, he asked me if it really said "Jam leg emails" in the top right. Of course, I said yes (in fact, it says "Jane Lee emails" – hi Jane). Within minutes, Ben came back with this brilliant spoof: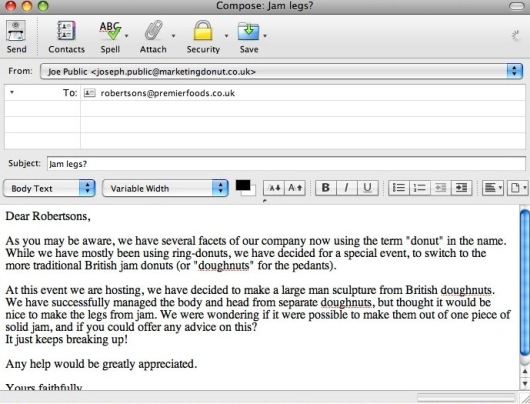 Ben, thank you. You've just earned a Donut voucher:
Well done! Just send a tweet to @marketingdonut to claim it.