I always say I've been busy this week. And I always am. But this week has been REALLY REALLY busy. If you don't believe me, just take a look at my desk: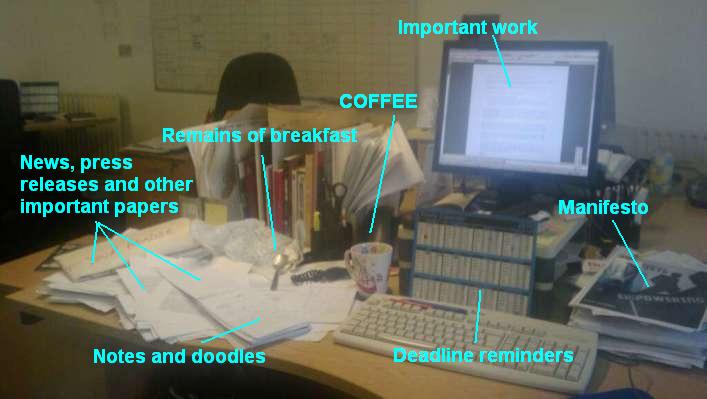 The coffee mug came from a trip to Haight Ashbury in San Francisco, by the way. Well, you've got to, haven't you? Here's a closer look. I do like my mug.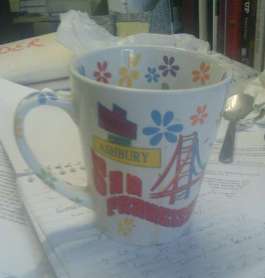 So, anyway, I've been busy. I've been busy because:
a) we started our general election push this week
b) we've been planning our first birthday celebrations
c) James, who usually looks after the Marketing Donut Twitter account, has been on leave. He came back briefly on Thursday, but we had to send him straight back home because he looked like death. Poor chap.
I've been holding the fort during James's holiday and his subsequent malaise, tweeting, blogging and planning like a mad thing. Running our Twitter account has been great fun, even though it's actually quite a big responsibility looking after a communications channel that has 10,000 followers. To be honest, I felt a bit like being a radio DJ on a phone-in programme, starting debates, inviting comments, throwing interesting nuggets your way and adding my two-penny's-worth on what you'd thrown me.
We got some good things going. On Monday, I clean forgot that I was supposed to be tweeting and did other important things. On Tuesday, I read James's handover note in which he explicitly said: "Cover Marketing Donut Twitter activity Mon-Wed." So I started tweeting and we reminisced about the 1980s and discussed what should feature in a marketing campaign aimed at 80s children like me. We figured big hair, Wham and Footloose-style dancing would probably do the trick.
On Wednesday, I got serious. I wanted to know what people thought about the way the major political parties were conducting their election campaigns. You got stuck in, gave me loads of comments and I produced this blog: "Trust me, I'm a politician".
On Thursday, I bowled in, confident that I could repeat the previous day's activity. I figured you'd be tired of politics, so I kicked off with a fun game of "Hit, miss or maybe?" with the latest ideas from the Springwise e-newsletter.
Nothing.
I asked what you wanted to talk about and someone mentioned cheese, then sports sponsorship, so I tried to get something going on that.
Still nothing.
I was starting to get worried. Had I lost my touch?
Shortly after a rather sad lunch, I happened to mention that I was writing my blog about politicians and looking for examples of brands that had made promises they couldn't deliver. A trickle of responses started to come through. So there was life out there.
I finished the blog and tweeted it. A couple of nice comments. I started editing the news and picked up a couple of interesting facts – 75 per cent of small business owners didn't know the name of the Business Secretary. There's a website called comparethemanager.com. I tweeted them and got a few more responses.
Then, during a five-minute breather, I came across a story about a pornographic magazine for the blind. Of course, I tweeted it. Who wouldn't?
Gold dust!
You try. You really try to be serious and focus on your subject. You try to encourage people to talk intelligently about marketing and politics and what it all means for business. But what they really want to read about is pornographic magazines for the blind. Thank you, Twitter. Thank you very much.
The Big Donut speaks
EDIT 20.04.10 - unfortunately, due to travel delays caused by ash from the Icelandic volcano, the Have your say! event has been cancelled this week. We'll keep you posted on alternative dates, if the event should be rescheduled.
Next week our MD Rory MccGwire will be one of the key speakers at Have your say!, a panel discussion in London to talk about the points raised in Doug Richard's Entrepreneurs' Manifesto (pdf). Whether you agree with Doug or not, he certainly touches on some key concerns for small businesses.
It'll be well worth going to the event and listening to Rory (as well as Doug and a host of other business media bigwigs) speak. In the meantime, you might want to get a flavour of Rory's thoughts on the manifesto issues over at the Start Up Donut blog.