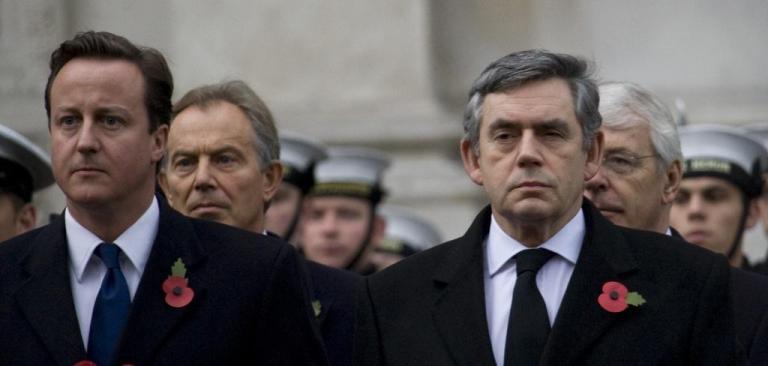 Whenever there's a general election, the political parties go into marketing overdrive. They bludgeon us with large full-mix marketing campaigns that incorporate market research, customer targeting, branding, straplines, press and PR, direct marketing through leaflets, doorstep selling, outdoor advertising and now, of course, online marketing and social media.
They leave no stone unturned to reach us, get us in their vice-like handshake and persuade us to "Vote for me!". At the same time, there's all sorts of underhand guerrilla campaigning going on, supported nowadays by an army of bloggers and viral marketeers.
What we've seen in the past few weeks is the political juggernauts firing up, heavy boots pressing down on the accelerator and the great unwieldy vehicles steadily building up speed. Soon, they will overwhelm us.
Some of these political campaigns are an object lesson in how to create and execute a corporate marketing campaign, driven by the zest and evangelical beliefs of thousands of volunteers - or as I like to call the party activists, "unpaid marketing interns".
But does it work? Is it actually going to make us vote? At the last two general elections, just 59 per cent and 61 per cent respectively of the electorate turned out to put a cross next to their favoured candidate's name. That's pretty low.
As any fule no, no brand is worth diddleysquat unless we believe in it. Frequently we see an enormous "reality gap" between a claim made about a brand and our real experience of it. A big reality gap can be profoundly destructive to a company's reputation. Some survive by tackling the issue head on. Others never really recover and slip out of our consumer consciousness.
In the case of the political parties, there's a massive reality gap which presents a serious challenge to the people charged with marketing them. Politicians operate on the basis of trust, yet they have been hurt by a succession of scandals that undermine our trust in them. So how do deal with that as a marketer?
Our Twitter followers had plenty to say on the issue of political marketing campaigns and how we would run them. Below is just a representative selection. It's interesting that not one person had something positive to say about our politicians:
@brightwomenare 1. Focus on positive messages. 2. Stop fudging and be clear - even if bad news. 3. Stop personalising.
@debutmarketing They should stop telling us what's wrong with the other lot and start telling us what they're going to do.
@debutmarketing Politicians should stop knocking the competition and start telling us the benefits of voting for them.
@Web_D Stop bickering like a bunch of kids when they get together. #actyourage #childish #notfittorunthecountry
@clairedowdall I'd make politicians sign something that binds them into delivering what they promise - or else! Plus easy manifesto comparison.
@jakepjohnson I'd make my campaign about my party's positives and not just about the opposition's negatives.
It seems pretty clear to me. The big focus of any political marketing campaign should be the restoration of trust:
We would not make promises we can't or don't intend to keep
We would stress the positive aspects of our own brand or product and not knock the negative aspects of our rivals'.
We would be unafraid to deliver tough news honestly.
Is this a recipe for electoral success? Or just the start of a long, hard slog back to credibility? I suspect the politicians will have a lot more marketing to do before we're comfortable about buying into their brands again.
What do you think?