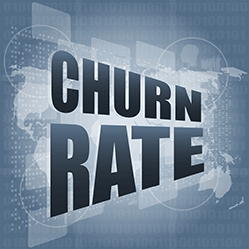 If you're in the business-to-business sector, then customer churn is a major issue. B2B companies are often obsessed with calculating "churn rate" which helps them remain sensitive to customer feedback.
There are three major reasons for churn:
Could have. There are times when you fall short on your delivery for things you could have taken care of, if anticipated and planned.
Can't. There are times when things are bound to happen because of external factors and you can't do much about it.
Surprises. New (or changing) requirements.
So how can you achieve churn rates that are near zero?
Under-promise and over-deliver
It's important to get your customers on board by under-promising. This is about being realistic and setting expectations for worst case scenarios. This doesn't mean that you conceal some of your product features. The better you under-promise, the higher scope you create for delivering more than what's been asked for. In addition, if your client needs are recurring, good service reinforces your values and creates an affinity within your customer base for your product.
Meet expectations
Considering the three main reasons for churn is important during the pre-sales phase. Planning for the "could have", letting clients know about the "can't" and explicitly avoiding "surprises" is key to meeting expectations once a customer is on board.
Knowing the line between a bloat and a feature-rich offering
An offering should be such that it solves an end-to-end requirement without being an overkill. Getting this right is an art not a science and it develops with experience.
Competitive pricing
Your offering should not come across as directly hitting at competitor's prices. Instead, the pricing should be justified by your product's value as perceived by your customers.
Dynamic Offerings
Technologies change faster than anything else. It's important for your product to adapt with the market dynamism, not just because the underlying technologies might be obsolete, but also because newer problems arise in the market.
Your customer's business
If your customer isn't doing well in the market, the chances are higher that they will go elsewhere. It's important to get closely involved with your customers' businesses, and keep asking for regular feedback on how well your offering is serving their portfolio. It's worth identifying trigger points that indicate if your customers are using your product enough.
Length of contract
Often, long-term contracts are seen as a way to achieve lower churn rates. While this might work great for cash flows, the issue of churn isn't eliminated this way. On the contrary, from our experience, this creates reluctance and curbs freedom at the customer's end. It's a better idea to introduce notice periods instead so that there's enough buffer time to take action before your customer leaves.
Arpan Jha heads the products and market strategy at PromptCloud.