The sales team and the marketing department: often at loggerheads, always playing the blame game and usually situated at different ends of the office. Why?
The benefits of these two vital cogs working together are numerous and far reaching. Here are our four top tips on how to improve those inter-departmental relationships:
Marketing: Get sales buy-in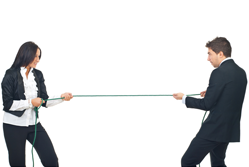 Before implementing any marketing initiatives, speak to the sales team. Get input and feedback from the people who speak to the customers on a daily basis and work together to generate campaign ideas. The sales team has the knowledge and awareness of what is likely to work and how your customers will respond.
Sales: Make your meeting invites +1
Invite members of your marketing team along to your client meetings. There is no better way to learn the motivations of your customers, their needs and how to win business than in face-to-face situations. This information will prove invaluable in the development of successful direct marketing campaigns, identification of new markets and product development.
Marketing: Cash is king
Incentivise the members of your sales team. We all know sales team motivations lie in their wallets (most of the time) so use this fact to promote a closer working relationship. Bespoke incentive schemes can be used to ensure all leads are followed up, CRM systems are regularly updated and team morale is kept at an all time high.
Both: Share and share alike
Information is power, and the sharing of information is vital. If when communicating to your clients, the marketing team is saying one thing and sales another, it makes you all look stupid. Make sure you are giving the customer the best impression you can of your company by all singing off the same hymn sheet.
Getting your sales and marketing teams to work together will reap rewards for the success of your campaigns. Both camps have precious information about your customers and target market which when used together will ensure that your marketing efforts pack a powerful punch.
John Keating is an expert contributor to Marketing Donut and director at Databroker.
Get more ideas in our article on motivating your sales and marketing team.