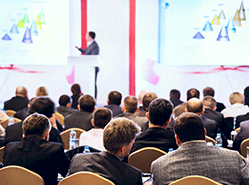 It's the day before your big presentation. You've crammed as much information as you possibly can into your PowerPoint slide deck and you're confident that you haven't missed anything out. Yet, you can't seem to shake that nagging doubt that it might not go as well as you had hoped…
In today's multi-media age, generating audience excitement and engagement armed only with a slide deck is no easy task. Even if your presentation is highly polished, the chances are that your audience will remember just a fraction of the messages you're hoping to deliver.
And unless you manage to grab their attention in the first two minutes, they could end up plummeting into the catatonic state of boredom characterised by the phrases "death by PowerPoint" and "PowerPoint hell".
Yet, by keeping in mind a few golden rules, it is possible for presenters to get their point across — and win over even the toughest crowd.
Know your audience
As most of us will have witnessed, even the most confident presenter can slip into bad habits. Among the more frequent mistakes are not having a clear objective or call to action, packing in too much data, failing to excite the audience and the all-too-tempting trap of using PowerPoint as a script.
Yet by far the biggest mistake — identified by 33% of 600 UK professionals in a recent Citrix poll — is the failure to understand your audience.
To overcome this and ensure that the presentation meets or exceeds audience expectations, it is always worth finding out who is likely to attend, as well as thinking about why they are participating. Is it a learning opportunity? Are they escaping work for an hour? Or has the boss told them to come?
Another worthwhile tactic can be to address likely objections head-on by building them into the narrative. This could include, for example, acknowledging that your product or service is among the more expensive in the market and counteracting this by explaining why it makes a better choice than cheaper alternatives.
Get to the point
The best and most memorable presentations tend to be limited to just a handful of key talking points. This way, you're more likely to lead with your best ideas, generate more impact and increase the likelihood that your audience will remember what you've told them.
With time at a premium for most professionals, it's simply bad manners to speak for longer than the audience had anticipated. And while it might sound obvious, invariably you're more likely to encourage a sale or achieve positive feedback if you close by reiterating your key objective and qualifying audience benefit.
Make the most of online and offline presentation tools
We've all cringed at presentations that rely too heavily on distracting PowerPoint tricks. Yet, there is a good case for using subtle animation and "builds" to introduce each of your points as you're making them to help ensure that your messages are delivered in palatable chunks.
In addition, bringing in good visuals and keeping the presentation moving at an upbeat pace can also serve to maintain audience attention — an increasingly tough task in today's multi-media age.
Andrew Millard is senior director of marketing, EMEA at Citrix Online Services.