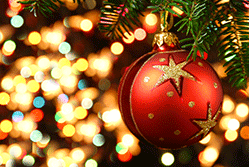 2013 has been a game-changing year as we've seen real signs of economic recovery and the continuing evolution of exciting online opportunities, including multi-channel marketing, crowd-funding and social sharing.
In some ways, it has never been easier to start a new business. But challenges remain, especially as many small business owners now seek to grow their enterprises and take advantage of new opportunities.
Here at Marketing Donut, we are focused on bringing you the latest news, views and advice to help you with everything from day-to-day decision making to long-term strategic planning.
This year our ever-popular blogs have covered the full gamut of marketing issues affecting every small business — from customer service to content marketing. We'd like to say a warm thank you to all our experts and guest contributors that have shared their wisdom and experience so generously.
We'd also like to say a big thank you to you — all the hard-working entrepreneurs and small business owners out there — for visiting us throughout 2013 and for sharing our content with the wider world.
Here are some of the highlights from our blogs in 2013:
Sara Drawwater: Lessons from a secret millionaire
Rupert Staines: Nine simple ways to make your hashtags work
Robert Craven: Has your business got 'five-year-old-itis'?
Sharon Tanton: Five ways to miss the content marketing bus
Rachel Miller: Four lessons David Bowie can teach us about marketing
Grant Leboff: Dumb marketing question #1 - does social media work?
Andy Preston: Seven things to do before you send a proposal to a client
Mike Southon: Customer care lessons from a fish and chip business
Rory MccGwire: A brief history of SEO — and why Google is doing us all a favour
Andy Bounds: Improve your customer communication in 20 seconds
Luan Wise: Seven useful things your LinkedIn homepage can tell you
Sarah Orchard: Just how much is a Facebook Like really worth?
We're taking a short festive break but we'll be back with more top tips and valuable resources next year. Happy Christmas and see you in 2014!
The Marketing Donut team