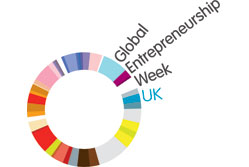 Global Entrepreneurship Week is an inspirational event for would-be entrepreneurs that need advice and guidance to get started and build their own businesses. And advertising and marketing are an important part of any start-up strategy. Here's a nine-step plan to help you make the best use of your marketing budget — however modest.
Do you need creative help? The biggest mistake many start-ups make when promoting their company is to produce their own adverts. It can be tempting (money being tight) but often these ads don't do justice to the business. Consider getting professional help — there are smaller advertising agencies that work with small businesses.
Which adverts do you like? Studying what other people are up to, what works and what doesn't, will give you a benchmark that you can use to judge your own ads.
Who is your most valuable customer? Take time to think about who you want to buy your product or service and who can you make the most margin on? Professional marketers often build a picture of their typical customer including everything from how much they earn to what media they consume.
What's your budget? For most businesses, marketing is an unavoidable expense. Decide how much you can afford in the first year and pick methods that match your budget so you can carry them out regularly. Don't blow all your cash on one high-profile advert — it's far better to run a mixed marketing campaign over a longer period of time.
What's the point? Think about why you are advertising — do you want to build your brand or directly generate sales? Even if you can make sufficient sales through personal recommendation, advertising can help you build a strong reputation and sow the seeds for future growth.
What's your message? Figure out what you want to say to your customers. You should aim to build a strong business reputation over time but may also have an immediate message such as a promotion or discount. Bear in mind that your key message could change over the year, especially if your business is seasonal.
Which channels? Pick a mix of marketing methods, focusing on channels that appeal to your target market and match your budget. A website is essential. Even sole traders that rely completely on word of mouth will benefit from a simple site. Be mindful that customers will read a lot into your business based on what they see about you online. A website specialist can charge anything from a few hundred pounds to thousands to build a website. Or you can set up one for free using a service like Getting British Business Online.

Your other marketing and advertising options include:

Business directories. An entry in appropriate trade directories will generate enquiries and may allow you to link back to your website (which will help improve your ranking on search engines).
Pay-per-click advertising. Pay per click (PPC) ads are the ones that appear next to search results on Google, Bing and Yahoo. You write the words, nominate the search terms that trigger your advert and wait for people to click through to your site. You're charged only if someone clicks on your ad. Go to Google AdWords to get started.
Newspapers and magazines. You should be able to secure a discount on any set prices and don't forget to ask for free editorial coverage too — that applies to local media as well as trade publications.
Local radio. Can attract immediate results but is relatively expensive.
Promotional cards and leafleting. Sticking cards in shop windows and notice boards can work well. In addition, delivering leaflets is inexpensive but can be too indiscriminate for many businesses.

Is it working? It's no good spending money on advertising if you aren't getting the right response. Ask new customers where they heard about your business and compare sales before, during and after a campaign. Google Analytics lets you analyse your website traffic so that you can identify which parts work most effectively.
Is it time for a rethink? Be sure to constantly review your 12-month advertising plan and don't be afraid to rethink your strategy if it isn't working. Your advertising plan should evolve along with your business.
Advice supplied by GEW partner, Barclays. Global Enterprise Week takes place until 24th November. You can find out more in our GEW Guide.