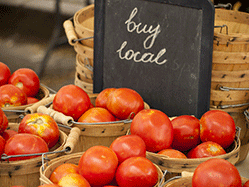 Marketing isn't something that always comes easy to the average small business owner, and often ends up being overlooked in favour of the day-to-day "busy work" that invariably clogs up our to-do lists. It's no wonder, then, that many of us — particularly small businesses whose focus is primarily local — get it wrong.
Here are five common mistakes many of us make with local marketing:
1. Taking a scattergun approach
Far too often small business owners take the approach of just throwing as much stuff at the wall and seeing what sticks when it comes to their marketing. This often comes as a result of treating marketing as "just another thing" on the to-do list rather than as a crucial business function.
Without monitoring, measuring and analysing your marketing activity, there's no way of identifying what's working and what's not, and by extension what's a waste of time or money and what you should be investing more into.
2. Relying heavily on word of mouth (without a strategy)
A lot of local business owners will tell you that they get most of their new clients through word of mouth. There's no denying that word of mouth referrals and recommendations are extremely important; but a huge mistake a lot of people make it having no strategy or system in place to both cultivate and manage word of mouth.
Too many people rely on dumb luck or take for granted that word of mouth will be a natural by-product of what they do. This simply isn't the case and even if you are doing well from word of mouth, the chances are you could be leveraging it to even greater effect if you took an active approach to nurturing referrals and building a reputation.
3. Reaching our further than you need to
It's easy to be seduced by the opportunities social media and other such advancements afford us in terms of our ability to reach a global audience; however in doing so many small business owners overlook the wealth of potential in their immediate local area.
How many potential customers are there within ten miles of where you are right now? How many of them do you service?
Surely it would be easier to work on dominating your local market than trying to build a global behemoth of a business? You can build a highly successful business solely by focusing on local marketing on your home patch.
4. Not using your website for lead generation
Having run a web design business for many years, I can safely say that while almost all small business owners know that they need a website, far fewer actually know why, or what to do with it.
It has become part of the startup business "checklist" these days — logo, check; business card, check; website, check!
Typically most businesses — except those for whom it's necessary to transact online such as ecommerce stores or hotels, for example — opt for the standard "brochure" site — a page about the company and its mission statement, a page outlining its services, and possibly even a blog (that may be updated for the first few weeks then abandoned).
Savvy small businesses don't use their website this way as they recognise that doing so is wasting an opportunity. At the very least, your website should be working as part of a lead generation system — even if that's as simple as an appointment booking form, or a callback request form. However, I'm still amazed at how many people don't even put a phone number or email address on their site.
And don't make the mistake of thinking that a business whose marketing is focused on a local area doesn't also need to be marketed online.
5. Limiting your network
Business networking is something that can be key to an effective local marketing strategy, and with the right approach can reward you with far more than just new clients; however some networking organisations intentionally limit the network that you're exposed to.
Often this is a characteristic of referral organisations and is a result of the "category lockout" these organisations employ. While this is something that is essential for the type of format and structure these groups have, many people fall into the trap of only sticking with those people "in the room" rather than continuing to develop their network outside of those meetings.
Limiting your business network to 15-20 people is counter-intuitive, so even if membership of an organisation is core to your local marketing strategy, then you should be complementing this will further networking activity.
The good news is that all of these five mistakes can easily be remedied. And by doing so, you can stop spinning your wheels wasting time and money, and start getting more from our local marketing efforts.
Mike Morrison is the founder of Local Profit. Check out his free Local Marketing Toolkit.