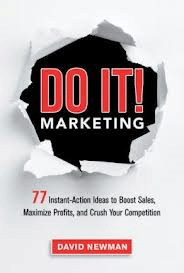 Do it! Marketing: 77 Instant-Action Ideas to Boost Sales, Maximize Profits, and Crush Your Competition by David Newman is a refreshing new book filled with blood-on-the-wall, "fierce competitor", no nonsense marketing tips. All 77 of them of them are practical and applicable to businesses like yours. And there's a workbook at the end to help you go and do it.
This book has restored some of my faith in marketing.
Marketing is a struggle
Businesses are struggling with marketing. It has become incredibly complex. The marketing mix, the communication mix, the channels available, measurement, the pressure on budgets, delivering ROI, understanding social media and technology — these are all hot topics.
Marketing gets a bad press
Marketing sometimes gets a bad press. It's not accountable, it's manipulative ("brandwashed"), it doesn't understanding social media. The old rules don't apply.
How Do it! Marketing can help
This books asks who are your clients and why? It encourages you to focus on the "what" after you have answered those two questions. What do you want to be known for, how can you speak the language of your clients, position properly, brand properly and sell?
Here are some of the highlights:
Stop blah, blah, blah marketing
Your clients are not interested in your business. Apply the "so what test" and the "prove it" test. Your brochures, website and other collateral are most likely to be all about you — and that is boring.
Could you say what has been written out loud to someone in a conversation? Without them having a laugh? Use authentic client language from your conversations with your clients.
Visibility + credibility = buyability
Are you visible and annoying, visible and insignificant or visible, credible and consistent? Are you, in other words, buyable? Is it a mistake not to buy from you?
There are only three problems you can solve. Process, people and profit. Which one is it? Ask the right questions and develop the right sales conversation.
Control is priceless
Position your offering in more control and less chaos. Buyers will only remember one thing about you after one week. Clarity is key. Speak, write and use social media. It is called "expertising". However, competency will not win you clients. That is a given. Be unique.
52-72% of B2B professional service buyers are willing to switch. So do not revert to self-promotion, self-solicitation, pathetic begging or self-commoditisation.
Give freely, engage and earn their attention
Always include a call to action. Establish a referral circle of trusted contacts. Sell like a girl — it is relational, not transactional. All leads are 999 calls — you have 15 minutes.
Be serious — and stop making stupid mistakes
The "be serious" section is one of my favourites and it highlights some of the marketing crimes that some small businesses are still making:
Your e-mail is a Gmail or hotmail account
You don't have a website
Your business cards look shocking
Your latest blog is from 2011
Your latest tweet is four months ago
You have two likes on Facebook
Your LinkedIn page looks barren, with only 20 connections
You are still referring to press releases and articles from 2005
You are self promoting all the time
You are an ass online.
Ron Immink is the CEO and co-founder of Small Business Can and Book Buzz — the website devoted to business books.