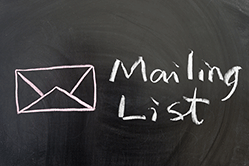 Mailing lists can be a highly useful marketing tool, allowing small businesses to acquire new customers and grow their customer base.
But how do you make the most of mailing lists? How do you ensure you are getting value for money and how do you achieve maximum ROI from your mailing list marketing?
Buying mailing lists: the key principles
There are three key criteria for buying mailing lists or data that will help to ensure you get a return on investment — it has to be high quality, targeted and should be provided by a reputable supplier.
Quality is paramount. Cheap data is a waste of money; it is likely to be inaccurate, out of date and could even be gathered using untrustworthy methods.
If a price seems too good to be true then it usually is, so avoid those suppliers that will offer you millions of records for a small fee (frequently found on eBay). Typically cheap data comes in one lump, not cleaned, refined or segmented — and that massively limits its usability.
What you need is a specialist supplier that asks specifically about your business, your customers and the campaign objectives — all signs that they can build and deliver a targeted list that has the biggest potential for generating positive ROI.
Using mailing lists successfully
Mailing lists can be used in a number of ways — typically as part of an outbound marketing campaign. This could be an email send, posting direct mail assets or telemarketing; it may even be a combination of all three.
What's important is to use your data sensibly; segment it along the lines of demographical information so that you have the best chance of reaching your target audience.
Remember that the people on the mailing list are unlikely to have dealt with you before, so you must build their trust from the outset, introduce yourself and clearly demonstrate why using your products or services is right for them.
With the right messaging it's possible to convert people on the data list into customers but equally important is measuring the success rates. Track every interaction, from first phone call and website analytics to orders, order values and ongoing custom to achieve a complete picture of how successful the marketing campaign has been.
Maximising response
Ultimately mailing lists have the potential to improve customer acquisition and marketing performance. It is important, however, only to buy data from a reputable supplier that bases their offering on the quality and targeting of the data they provide.
And, make sure that your marketing message is geared up for first time customers to maximise response.
Tim Holt is managing director of mailing list specialist, Data HQ.