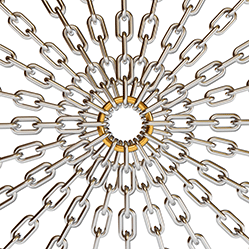 As a professional social networking tool, your LinkedIn homepage is more valuable than you may give it credit for.
It is by far the greatest source of real-time market intelligence I have (and costs just a few minutes of my time each day).
LinkedIn is a truly brilliant tool that provides us with the ability to engage in conversation with our business network, on both a one-to-one and one-to-many basis. So much so, I wonder whether we really still need email.
A quick glance down the right hand column reminds me of the power of my LinkedIn profile. With over 500 connections, I am less than three steps away from almost 9 million professionals. And this is growing — today the statistic shows over 25,000 new people in my network in the past three days. Three days!
Tip: How do I keep up with new people that might be of value to me? I have a paid-for account, which allows me to save advanced searches. Weekly email alerts highlight any new accounts matching my search criteria. You can also keep track of your LinkedIn activity with the new "You Recently Visited" feature.
Here are the seven LinkedIn features that reveal valuable information about your connections and your sector as a whole.
1. Status updates
The quality of status updates has significantly increased, in my opinion, since the automated feed from Twitter ceased. Status updates are becoming more and more informative as users find their voice and clarify their content strategy. Engagement via likes and comments is becoming more prevalent, and the recently added ability to mention other users is proving popular.
2. Profile updates
My timeline shows when people update their profile — useful information about job changes can provide valuable business intelligence.
3. New connections
I love seeing the new connections being made across my network — it shows that they're active users.
However, if you're in a sales role you should consider protecting your profile so "stalkers" like myself don't pick up on when you add a new client or prospect to your list. It's a small world and I'm keeping my enemies (competitors) close by, including them in the network I'm watching.
4. Endorsements and recommendations
I'm not keen on the endorsement feature — some users are click happy when it comes to endorsements and this undermines their credibility. However, a quick review of skills is helpful, and it's interesting to see who is recommending who.
Tip: Even if you work with your partner, having your husband or wife recommend you is a little odd! Time your recommendations so you don't have lots of new ones all at once, as it hints that you're suddenly in the job market. Maintain your network regularly and you'll be prepared for the time you might need it in a hurry.
5. People you may know
When building your network, LinkedIn's ability to identify people you might know is really useful.
Tip: if LinkedIn suggests someone you know, don't just hit connect! If you want to add someone new to your network, personalise your request with a note — "we have various contacts in common..." or "it's good to find you on LinkedIn…".
6. Who has viewed your profile
Now this is really interesting information — who has been looking at you and why? Perhaps they've seen a status update and want to be reminded of your profile. Maybe they need your help. Keep an eye on this and, if relevant, drop the user a note to see if or how you can help.
Tip: if you see "Someone who works in x industry in the x area" listed, click on it — you'll see a shortlist of people and can probably guess who the viewer was. In my opinion, the only time to go totally anonymous is if you're doing competitive research and don't want to leave your footprint behind. Change your settings temporarily for this.
7. Who has viewed your updates
Real-time feedback is great for refining your content strategy. A new feature on LinkedIn provides a snapshot of what you've shared over the past 14 days, who has seen it and how it has been received (liked, shared) from your 1st, 2nd and 3rd degree connections.
If you're not regularly checking out all this information, schedule ten minutes a day into your diary and you'll soon find out just what you've been missing.
Luan Wise is an expert contributor to Marketing Donut and is a freelance marketing consultant.