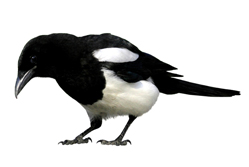 Do you have a successful marketing strategy — one that consistently delivers enquiries, sales and profits?
Or are you always trying something new in the hope that it will work — being a marketing magpie?
Magpies are always on the lookout for something shiny that they can add to their collection.
Marketing magpies fill their to do lists with new ideas without building a focused marketing strategy.
Why is it bad to be a marketing magpie?
You'll be frustrated by continually chopping and changing
You'll be unproductive with your time
Your marketing will be confused and ineffective
You'll risk the success of your small business
Don't get me wrong, there is nothing wrong with looking for new ways to market your business and taking advantage of new ideas. But don't let the volume of new ideas become your focus — don't chase everything that's shiny.
What are the signs that you're a marketing magpie?
1. The endless list of great ideas
You have an endless list of new ideas that you want to try. You might even spend more time researching and adding ideas to your list than you do executing on your marketing and delivering results.
2. You consume without taking action
You read the eBooks, take part in the webinars, listen to the podcasts and spend hours and hours consuming blog posts and other information — but you don't take action.
Knowledge is great, but without action it's worthless. One of the most critical success factors in small business is the ability to execute — to take action and get results.
How can you avoid becoming a marketing magpie?
Follow these four steps and you'll not only ensure you avoid being a marketing magpie but create a structured marketing strategy that will deliver results.
Step 1: Focus
Select a small number of activities that you will focus on for your marketing. You should pick no more than five specific things and focus exclusively on these.
For example you could select: blogging weekly on your own blog, guest posting on other blogs that are popular with your target audience, building an engaged Facebook community, building a local presence with Google Places and building a partnership with a complementary business to gain referrals — for instance wedding photographers can build great relationships with wedding hotels and venues.
Look at what has already worked for you and do more of it. If you're just starting out look at what others in your industry are doing, and where your perfect customers hang out — it's no good building a Facebook community if you're targeting lawyers who won't be using Facebook during the times you are able to engage.
Set targets for your five focus areas. For instance, if you select guest posting, how many posts will you write and submit to websites in one month, three months, and so on. By creating clear goals you can measure your results.
Step 2: Action
Picking the five areas is only the start. You need to take action.
Make progress in your focus areas, ensure that every day you have time put aside to work on each. At the end of each day have a quick review of what progress you've made and plan for the next day. Don't let yourself become distracted from these five things.
Step 3: Review
Regularly review your five focus areas for measurable results. Regardless how much time you put into selecting your initial areas of focus, the results are ultimately going to show you if you made the correct choice.
Have you seen an increase in traffic from guest posting, have you received enquiries through building an engaged Facebook community?
Step 4: Adapt
Based on the results in your review, adapt your focus. If you've seen results from Facebook but not as much as expected do you need to spend more time engaging with your community? Do you need to publish more blog posts to generate more enquiries?
If you've adapted your focus from a previous review and you still don't see the results you'd like then, and only then, consider changing one of your focus areas. But only change one at a time, and only after you've really made an effort to take action in that area and the results have proven that it's not working.
Build a Strategic Habit
Following this approach will build a strategic habit, a focused marketing strategy and most importantly measurable, profitable results for your business.
Are you a focused marketer or a marketing magpie? Please join me for a discussion in the comments.
Robert Peters is a Small Business Adviser and Director of Fresh Eyes Consultancy.