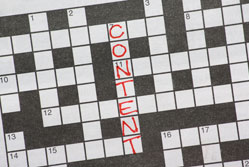 In a digital world, your greatest marketer is no longer you. Rather, it is the community of customers, prospects, suppliers, partners and industry experts who engage with your business. They share links, give you mentions and, in turn, prompt others to engage with your business.
In other words, marketing today is no longer a means to an end; it is an end in itself. Effective marketing provides value, regardless of whether someone purchases from you or not.
Content is a major mechanism for providing that value for prospects and customers. It can come in all sorts of guises — competitions, top tips, games, insights, white papers, videos, articles, podcasts and more. However, the common theme is that it should provide value for the audience regardless of whether they make a purchase or not.
Attention-seeking tactics
Ultimately though, a commercial business requires marketing to lead to purchasing somewhere down the line. The logic is simple — the more people who are engaged with your business, the more attention you will have in the marketplace. So, when people are looking to purchase, this visibility should lead to your company being one of the suppliers considered.
If your value proposition and the other aspects of your offering are attractive, this should lead to business. Moreover, in the digital world, if it is clickable it is trackable. Therefore, businesses can be tracking all the data to ascertain what marketing is effective and what is not. In this way, an organisation can be constantly striving to improve results.
So far so good; but is there more a company should be doing? The short answer is... yes.
In most markets, prospects use information to learn about the different products and services available, latest trends, the experiences of others and so on. Your business should be providing content of real value — insightful, educational and which prospects will share, not overtly promotional.
Influence customer thinking
You can use this material to create competitive advantage when the moment to choose a supplier occurs. Content can influence how a buyer thinks about a product or service — use yours to emphasise the importance of the particular criteria that differentiates your business from your rivals.
Of course, different criteria will appeal to different buyers — which is why there is often room for a number of suppliers in any particular market.
Criteria of purchase is vital in deciding the supplier a customer will eventually choose. It is the ability to influence the criteria of purchase, while at the same time providing real insight and value, which gives every business an opportunity to tip the scales in its favour when a buyer is making a purchasing decision.
This is an aspect of content marketing too often ignored by businesses. So, ask yourself, how effective is your content marketing? Could you make it better?
Copyright © 2014 Grant LeBoff, expert contributor to Marketing Donut and CEO of the Sticky Marketing Club.