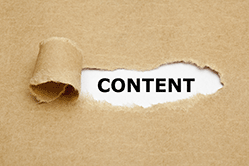 Finding your content on the internet is almost as difficult as looking for a specific star in the Milky Way. It would take you over 340 years to peruse the 2.15 billion actively indexed web pages out there — even if you just spent five seconds on each one.
In short, people aren't going to simply stumble upon your content. Even though you've created an interesting, relevant, high-quality article, you're still going to have to do some legwork to make the most of it.
Continuing to market and track your content helps deliver reach, targeted delivery and increased credibility. Here are some free ways to increase your content's exposure after publication.
Free resources to promote your content
If you're on a budget, there are still lots of ways to get your content in front of relevant audiences — you just need to tap into your networks.
1. LinkedIn Groups
Using your article as a resource in LinkedIn Groups can be effective for sharing your expertise without seeming too promotional. Find like-minded groups and make a habit of joining their discussions before you share your own content. Likewise, don't overshare and keep it professional.
2. Email signatures
Adding your most recently published article to your email signature functions as an instant credibility badge. I almost always follow a link like this if I want to know more about someone who has emailed me. It demonstrates thought leadership in your industry and it gets your message in front of the people you're trying to reach.
3. Your company blog
This is a good place to extend the conversation about a published article without duplicating content. Can you follow up on your original blog? What did you learn from the comments on your article? Are there any comments you'd like to respond to? Be sure to include a link to the original article.
Tracking the effectiveness of your content
In addition to getting your content maximum exposure, it's important to follow the data and use metrics to drive your decisions. With Google Analytics or a similar platform, you can track your leads and conversions by source. If one source stands above the rest, you know you're effectively reaching your audience, either with your content or the publication.
Tweak your content marketing strategy by immersing yourself in the metrics and making positive changes. Set a goal for your content, whether it's increasing visits to your site, starting more conversations with prospects or converting more leads that find your site through your content.
Content marketing isn't a vanity exercise. If you've ever done it, you know it takes time, effort and strategy. Don't make the mistake of assuming your content's journey ends once it has been published. You'll be missing out on an opportunity to keep your content working for you.
Mark Hodges is a brand strategist at Influence & Co.