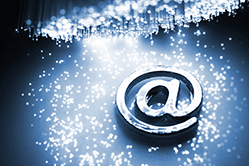 At the start of any new year we are often tempted to make a fresh start. Businesses frequently do the same thing — giving their websites a bit of a refresh, changing their policies, targeting new audiences and even updating how they get in touch with their customers.
So what's in store for email marketing? It has been a key business tool for some time and it should continue to grow, but by how much? And what are the key trends for 2014?
Spending more on email
The amount of money being spent on email marketing has been increasing for some time and 2013 saw a significant rise — 20% in fact. That's a pretty hefty figure but current predictions suggest that email marketing spending will keep growing. Budgets are likely to increase by about 10% this year.
But what will that money actually go on? With more and more people using mobile devices, there will be an increase in spending on mobile optimisation for websites. Having a site that is mobile-optimised is likely to bring in more customers and the same can be said for emails. If businesses want to increase their open rates, they need to make their messages as mobile-friendly as possible.
This means that businesses are going to have to look closely at where the rest of their finances are going. And the likelihood is that companies are going to scale back on printed marketing material because everything is going digital.
The online revolution continues
Even if customers purchase items in-store, rather than online, there is an increasing chance that the transaction will be completed online. Digital receipts could be given out, so customers don't have to worry about losing a little piece of paper.
Companies are increasingly encouraging people to buy online by offering them offline deals that push them towards the internet. In-store promotions, for instance, can ask customers to go online to receive a prize or more information. As retailers encourage more customers to shop online, the number of people signing up for email marketing is likely to increase.
Targeting messages
Email marketers are constantly sending us all kinds of content. The problem is, for the most part, it's not useful to most of us. Yes, we will get the odd gem and an amazing deal that is perfectly suited to our preferences but a lot of companies just create a general email, hit send to all and hope for the best.
This year, customers are not going to stand for that and marketers are going to have to up their game as a result. Statistics have shown that 43% of emails are opened on mobile devices so it's simply unacceptable for businesses not to get on board with this. Emails need to be optimised for mobile use but the messaging must also undergo a makeover.
No more one-size-fits-all
Rather than the generic, one-size-fits-all model, businesses will increasingly use data to drill down to specific interests and requirements of their subscribers. More carefully targeted campaigns should result in more sales.
So, there's no doubt that change is on the way — the question is, how much impact will it have on conversion rates?
This is a guest blog from Lauren Sutton