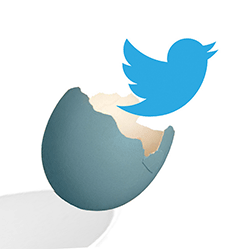 Recently I've been hearing lots of people saying that Facebook has become their preferred choice of social network for promoting their business. Lots of people seem to be making use of Facebook, but are reluctant to start using Twitter or feel it's not the right social network for them.
So I thought I would share my top four reasons why Twitter is better than Facebook for marketing your business, to give you the inspiration to start using Twitter, or to re-ignite your passion if you've started feeling a bit "meh" about it recently.
So, in no particular order:
Image credit: mkhmarketing on Flickr.
1. It's fast moving
Now I know to the newbie Twitter user, the first time you realise just how fast moving it is, you can feel a bit like you've suddenly found yourself at Victoria Station at 8am on a weekday!
But the pace of Twitter opens up plenty of opportunities for you to get in front of your ideal clients.
Because it moves so quickly, most people don't screen what they tweet in the way they do when posting on Facebook. Twitter users are much more likely to "brain dump" into a tweet — which means you get access to lots more detail on people than you ever will on Facebook.
On Twitter you're more likely to post the minutiae about your day; the train is delayed, the fact that you stopped for coffee en route, your immediate thoughts after the meeting, the quick whizz around the shops, the people on the train and so on.
So think about what your ideal client might be tweeting about during their day — and search for it on Twitter. They're right there.
2. It's easier to learn
It is actually miles easier to learn how to use Twitter than it is Facebook.
The reason is that Facebook changes the blooming rules every other day; so just when you think you know what you're doing, it all changes.
I can only think of two changes Twitter has made in the past six months, and one of those was about the way you report (and they deal with) abusive tweets. The other was the introduction of a new feature that allows you to accept direct messages from anyone who follows you — regardless of whether you follow them.
Both of those changes will make very little difference to how the majority of us use Twitter.
Conversely, Facebook have made about 98,516 changes to their platform in the last month — slight exaggeration but something changes in Facebook at least once a week. Grrr!
3. Your prospects can find you easily
This week we've needed to find three types of businesses, and as we're new to the Isle of Wight, we don't have many contacts in the offline world. So instead of faffing around skimming through the Yellow Pages, Google etc, we decided to do what any Twitter fan would do — we waited for the IOW Twitter Chat.
So on Monday night , we hit #WightHour to look for the people we needed. By 9.30pm, we had sourced an electrician, IT person, and a cleaning company. Job done, easy.
Are you participating in your local Twitter Chat? Or in all the Twitter chats your ideal clients are? If not, you're very likely losing business.
4. You don't have to wait for conversations
I like to compare the social media world to a shopping mall; Facebook is the shops around the edge of the mall where they set out their window display, then have to wait for customers to come inside.
Twitter is the row of stands that sit down the aisles of the mall. The advantage the stands have over the shops is that they are right in the middle of the crowds of shoppers. So they can easily move into the crowds and talk to people to get their attention.
And that's exactly what you can do on Twitter. You don't have to wait for people to come and find your page; you can get yourself into the crowd and initiate conversations yourself. Who do you want to tweet with? Just do it.
Veronica Pullen is a social media expert and small business coach. She is the author of the free ebook, Unlock the 3 Best Kept Secrets to Skyrocket your Sales from Twitter.