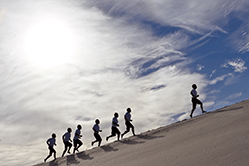 Guess what? Your customers are quicker than you.
It's a frightening thought, but once you embrace the concept of the "restless consumer", the more chance you have of keeping up with them. Who knows you may even be able to predict what they want, which is almost like being ahead of them.
But let's not run away with ourselves. They're the ones in front, they move faster, they're agile, hungry and they never sleep.
So how do you keep up? Your time is already pushed and this is just one of the many races you're in.
Solid strategy and planning will guarantee you a head start, as well as a full and rounded view of how your audience behaves online.
Once you're out of the blocks, ideas based on insights connected to an irrefutable product or service truth will keep you up to speed. Playing the guessing game is not the best strategy here; hard empirical data puts you on solid ground.
It also helps you work out if you're adopting emerging technologies fast enough, or investing time and budgets in the right places.
If your brand is tracking trends, researching and acknowledging, you can quickly earn the enviable reputation of being a collaborative and pro-active organisation. And, as it turns out, people get behind businesses and brands that are like that.
It's not impossible. Time and time again, we've seen consumers develop a strong emotional attachment and a sense of shared ownership with a particular brand, product or service.
Imagine that — your users with a vested interest in what your brand is up to online.
Before you know it, you can be right alongside them and even, dare we say it, setting the pace.
Steve Peters is digital business director at Manchester digital agency, Code Computer Love.