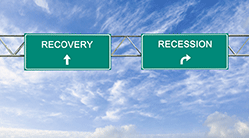 It is always easy to be wise after the event, with 20-20 hindsight. Predicting the future, though, is another story. I am reminded of that apocryphal sign: "Palm reading cancelled due to unforeseen circumstances". Even top economists cannot agree on even the biggest aspects of our economic future: are we set for a speedy recovery, or will be in the economic doldrums for a whole 'lost decade'?
The facts are fairly easy. A recession is defined as two successive quarters of 'negative growth'. Over the last year and a half, the economy has fluctuated between quarters of positive and negative growth.
This pattern has given free rein to politicians, the media and just about anyone with a public opinion on the matter to proclaim the recession as ending — continuing — worsening — improving — delete as appropriate. Some say that our current 'anaemic but positive' growth trend is flattered by the Olympics and Jubilee — it is simply too easy to find arguments to point either way.
Worse still, even if the statisticians come up trumps, it is of little use to the business owner. A quarter of a percent here and there on global or national numbers will be of no use in working out the future of your own business, or indeed whether it is a good time to open a new venture.
I think it is more useful to consign the macroeconomic numbers to the bin. As an entrepreneur, I simply refuse to be dissuaded: I look for the green shoots wherever I can, by talking to real people running real businesses. I meet business owners all the time (I mentor several business owners every month), and all of them have different tales to tell of both challenges and opportunities. What unites them is an unfailing commitment to making their particular business work.
Recruitment: an economic bellwether
One industry, whilst hardly a statistically sound example, offering a better benchmark than most is recruitment. The recruitment industry serves other businesses, and when times are tough and those other businesses are cutting back, recruitment services take an exponential nose dive.
Similarly, when confidence begins to return, the recruitment industry wakes up with a vengeance. It is an excellent bellwether of economic confidence. I happen to have spoken to a number of recruitment agencies recently, and indications are good: a definite upturn in certain sectors seems to support the science.
Opportunity knocks
This is of course great news, but as an entrepreneur, I still think we need to avoid the question of recession in the first place. Asking when the recession will end is unproductive; it suggests that our hands are tied until then. A better re-phrasing would be 'Can I succeed despite these conditions?' To which the answer is a resounding 'yes'.
I have spoken before about the many different kinds of entrepreneur but there are some core characteristics that the successful ones all share.  A positive outlook, the desire to spot an opportunity in any situation and a yearning to change the status quo would all make the list. In the words of strike-it-rich author Robert Kiyosaki, (not someone I always agree with, but the quote is worth a mention), 'This crisis is the biggest opportunity in the history of the world'.
It is hyperbole, but it is also right: there are advantages to starting up in a recession. Everything is cheaper: rent, equipment, premises and services can all be bought for knock-down rates. Furthermore — and I cannot overstate the importance of surrounding yourself with great people —  in a market where big international companies are laying off staff, ever more top-quality people are becoming available in the job market. They are willing to travel further, work harder and for less money than their previous expectations might have allowed.
The benefits of being small
And you have the agility of the startup on your side: you can make decisions on a sixpence, outfoxing bigger companies that are struggling with their legacy systems and infrastructure.
There is a caveat. This opportunity only exists if you are willing to work harder, think faster and be better than the competition. Recession is the Darwinian 'natural selection' of the business world. In troubled times, a bad business idea becomes worse, because it will lose more money, more quickly. A good idea, meanwhile, has to be really good to make it through to fruition. That requires discipline:
Focus on your core offering and hone it until your niche is crystal clear. Do not try to cover inadequacy with more layers of extra services: get your main service right until you are delivering right at the top of your game.
Look after your existing client list. Chasing new business can be costly (generally it costs six times as much to find new clients as to service existing ones); so give your top clients unstintingly magnificent service.
Pick at least two of these three: be local, reliable and nice. If you are round the corner, move heaven and earth to deliver great service and become a dependable source of knowledge and inspiration, you will rapidly earn an enviable reputation.
Do not cut back on marketing. It is not expendable during a recession, rather, it is vital. Now, more than ever, you need to be shouting about what you can do and the wonderful way you do it. With minimal budgets, be creative, innovative and brave — all attributes that would also appear on the list of successful entrepreneur characteristics.
David and Goliath
Jamie Murray Wells, the founder of online glasses service Glasses Direct (and an expert guerrilla marketer) once sent a flock of sheep into a branch of Specsavers with placards saying, 'Don't get fleeced'. That might not be quite your cup of tea, but it earned Jamie bags of press exposure for only pennies. It also gave him the support of the public — us Brits love a David who challenges a Goliath.
A recession forces you to exceed your own expectations. New businesses with a little cash, an entrepreneurial spirit and an emphasis on marketing a well-defined product or service are best placed to turn frugality into a genuine business opportunity.
Copyright ©Mike Southon 2012. All rights reserved. Not to be reproduced without permission in writing. Mike Southon is the co-author of The Beermat Entrepreneur and a business speaker.