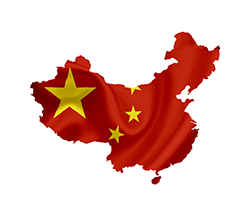 For many newbies to China, one of the great frustrations is the internet. Most of the old favourites are blocked — YouTube, Facebook, Twitter and Google Docs; even Google searches can be painfully slow.
At first sight, China's Great Firewall could fool you into believing that China's internet is a backwater where anything interesting is deemed as a threat by the state-controlled censors. But you couldn't be further from the truth.
The internet is booming in China and, in many cases, is more influential than in Britain. It is one of the most important and cost-effective marketing channels for cash-tight small businesses targeting China, if you get it right. Here's why:
1. China's internet-using population is big
With 513 million internet users, China has a larger online population than the next three top countries combined. And it's growing fast. China's internet base is expected to reach 700 million by 2015. Although less than half of China's population use the web, those online are the consumers with disposable income most likely to buy imported goods and services. 
2. Smartphones are everywhere
In China, you can pick up an Android smartphone for less than £50. That has opened up the smartphone market to much of the population. More Chinese people now access the internet from mobiles than PCs.
3. The Chinese use the internet a lot
Those who live in cities have longer commutes and spend more nights in than most British people do. During that time, many are online — for an average of 2.7 hours every day; more than any country except Japan.
4. Chinese people make purchasing decisions based on websites
Online content about your brand and products will have a direct impact on both awareness and intent for Chinese consumers. Ipsos China research found 37.6% of Chinese consumers regularly increase their brand awareness through websites, more than any other medium. 47.5% increased their purchase intent from what they read on websites, whereas newspaper, TV and radio were all less than 32%.
5. Chinese consumers talk about brands online
McKinsey research discovered 91% of online Chinese visited a social media site in the past six months. 53.5% of Brits have. Chinese consumers are less likely to trust state-controlled TV, newspapers and radio, and tend to believe content on social media such as Sina Weibo. 95% of Chinese consumers trust a brand more if they've seen it on Weibo.
In conclusion, if you're investing in the Chinese market, make sure your website and social media are a key part of your strategy.
Key things to remember
Your website should be optimised for mobiles and tablets in addition to PCs.
Make sure your website has been tested with Chinese people.
Use an expert to translate content into simplified Chinese characters, and don't even start thinking about Google Translate (you'd be amazed some do).  If you're targeting Hong Kong, Taiwan or Malaysian Chinese, you'll also need traditional characters.
Explore the opportunities with social media, especially Sina Weibo, to understand what consumers think about your brand, products and industry, communicate offers and build rapport with customers.
Mark Tanner is the founder of China Skinny, a service helping western businesses better understand Chinese consumers.