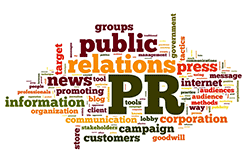 Attracting quality press attention for your start up business can be an uphill struggle. Here are our top tips for gaining media coverage. 
Make it personal
Each and every approach must be personalised. Let's face it — nobody likes to be nameless. Avoid sending bulk emails with hundreds of recipients under the BCC tag. Most servers are auto-configured to junk incoming emails when the BCC is active with multiple emails.
Spend the extra time researching every recipient. Yes, it's time consuming, but it will deliver results. Your conversion in terms of responses will definitely increase.
Target specific media
If you're not clear about your target audience, then how can you execute an effective public relations campaign?
First of all, focus on the niche publications — these are your heavy hitters. Think of them as little gold mines, waiting to be found and crying out for your news. Who views them? A high majority are people solely interested in that specific topic. They are also used as research hubs for journalists from national newspapers.
By contrast, the national media titles tend to cover a broad range of topics and finding the most relevant point of contact is often laborious. Use the website search function to find relevant articles similar to your news and check the author profile.
Another great media opportunity is niche blogs. Land of the free speech, make sure they are floating high on your research list.
Make a list of all the journalists you want to target and consider making a smaller list of the key journalists that you would like to build relationships with. Keep them in the loop, invite them to your events, schmooze them! Focus your main efforts on this select group of journalists every time you have a story to convey.
Old school
The way that journalists get their hands on news has changed dramatically over the past decade. Twitter, Facebook and other social platforms are real-time news hubs. Stories can go viral before they are even picked up by media sources.
The days of Ivy Lee, who created the first modern press release, have all but gone. Fax machines and snail mail are still a viable delivery method but they just aren't used that often.
So why not use this to your advantage and go old school? Fax your press release and avoid the cluttered mailbox of a journalist. Traditional mail is another good option — you can use fancy paper, a nice envelope or even send a gift.
Get prepped
When you're pitching to the media, make sure you have all the assets a journalist might need, ready to send off at a moments notice. But don't send these first time — send them to those that request them. 
• A photo to go with your story;
• A screenshot of your product/website in multiple formats and sizes;
• Your company logo in multiple formats and sizes;
• What makes you different that your competitors;
• Additional quotes from relevant persons;
• A document with facts/figures about your business.
Matthew Lobas is account manager at Pressat.