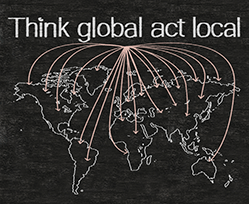 Expanding your business abroad is no mere afterthought despite the ease of reaching people in different languages and markets across the world thanks to the internet.
Rarely is it necessary these days to set up local offices or physical branches on the high street to sell your wares or services. People simply search for your product and buy from you even if your business isn't based in their country — most customers will trust worldwide shipping to make purchases online.
So how do we take advantage of this phenomenon? How do we reach audiences in the same language but a different country like Australia or the USA? How do we reach audiences in a different language and a different country altogether? How do we avoid embarrassing mistakes to keep our credibility intact when people do eventually find us?
The key issue that most business forget in the rush to maximise the opportunity is not to get lost in translation.
Acting local with content
The first thing you need is web content. Whether you're an ecommerce site selling your unique brand of clothes or a firm selling professional services or an online product such as a video game — you need copy that is written in the customer's language.
But before you log onto Google translate, remember that people are not that forgiving of businesses with poorly written copy. So it makes sense to hire a professional writer that has native level language skills in the country of choice — even Australian English for instance.
A professional writer will not only write using the idioms and wordplay, they will also understand the culture of how people buy into what it is you do. This will also help prevent costly branding mistakes such as the time Opel named their car Nova for the Spanish market which means "no-go".
They will write web copy for your product or service that sounds right and thus will make your business appear more persuasive and trustworthy.
Beyond the website
The professional writer will not only write copy for your website, but equally important, will write unique content for other websites discussing the issues that your business' products or services resolve.
This not only allows you to reach out to new audiences in France but also helps build your reputation in Google France. This happens in a number of ways:
People will start searching for your brand name online in France;
Your web pages start getting traffic for searches conducted in French;
People click through on links embedded in the content to your French website.
Becoming famous
If the budget stretches, you may wish to consider getting coverage in the target country. This will require a public relations (PR) specialist with the right media contacts in the countries you're marketing to.
The PR will help you build your profile with the media and create news hooks that will help your press releases get picked up by the press your customers read. These news hooks could be original research or surveys or whitepapers that will help your brand get noticed and stand out from all other local and global competitors vying for your customers' money.
Although Rome wasn't built in a day, just imagine what the Romans would have given to have the technology we have to reach millions of people across the world — all powered by search.